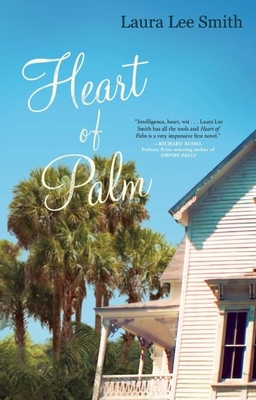 Heart of Palm (Paperback)
Grove Press, 9780802121035, 452pp.
Publication Date: April 8, 2014
Other Editions of This Title:
Hardcover (4/2/2013)
Hardcover, Large Print (8/28/2013)
* Individual store prices may vary.
Description
" A] fine, funny first novel . . . A heaping dose of Southern soul with a whole lot of chutzpah thrown in."--Gina Webb, Atlanta Journal Constitution Arla Bolton had been warned never to marry a Bravo. From the country-club set in genteel St. Augustine, Florida, Arla gave it all up to marry Dean Bravo and move to Utina, best known for the trade in Palm Sunday palms and moonshine. Opportunity has passed by both Utina and the Bravos for decades, but Arla was young and in love and blind to how her choice would change her life. Now Dean is gone and she shares a ramshackle waterfront house with her willful daughter, Sofia, nursing her losses and wondering if Dean's doing the same wherever he is. Frank, her dutiful middle son, manages the family restaurant without complaint, while he dreams of escaping the Florida heat to cool mountain rivers, and dreams of his brother Carson's wife, Elizabeth, whom he's loved since adolescence. In short, the Bravos are due a break--and when the phone rings one July 4, it seems a developer wants to bring development to Utina at last, provided the Bravos agree. But are Frank, Arla, Sofia, and Carson ready? Ready or not, it seems the phone call has set off a chain reaction. Two surprise arrivals, one late-blooming love story, one hedge fund scam, a truck full of melted Key lime pies, and a bittersweet reckoning or two later, Heart of Palm reveals what happens when opportunity knocks, tempers ignite, and long-buried secrets are unearthed. Like Fannie Flagg's Whistle Stop, Alabama or Richard Russo's Empire Falls, Utina and its inhabitants are a town that will live in readers' memories. As the Bravos confront the tragedy in their past and attempt to embrace the hope in their future, Laura Lee Smith establishes herself as a warm, wryly witty, and captivating new voice in American fiction. "An incandescent first novel set in the small town of Utina, Florida, whose inhabitants struggle to balance tradition and progress."--Abbe Wright, O Magazine "Remarkable . . . Heart of Palm is Smith's first novel, and it's a knockout. With its knowing but sweet-natured humor, its flawed and believable characters, its convincing depiction of small-town life, its delicious little plot twists and its insight about the human heart, it reminded me often of the novels of Richard Russo."--Colette Bancroft, Tampa Bay Times
About the Author
Laura Lee Smith's short fiction was selected by guest editor Amy Hempel for inclusion in New Stories from the South in 2010. Her work has also appeared in The Florida Review, Natural Bridge, Bayou and other journals. She has taught at Flagler College and currently lives in Florida, where she works as an advertising copywriter.