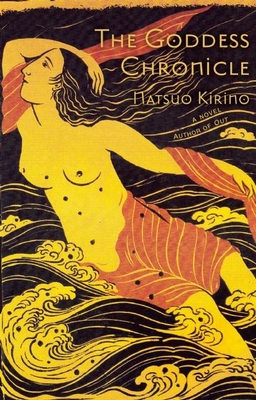 The Goddess Chronicle (Paperback)
Grove Press, 9780802121103, 312pp.
Publication Date: May 13, 2014
Other Editions of This Title:
Hardcover (7/23/2013)
Paperback (1/2/2014)
* Individual store prices may vary.
Description
From internationally bestselling crime writer Natsuo Kirino comes a mythical slice of feminist noir about family secrets, broken loyalties, and the search for truth in a deceitful world.
In a place like no other, on a mystical island in the shape of tear drop, two sisters are born into an esteemed family of oracles. Kamikuu is admired far and wide for her otherworldly beauty; small and headstrong Namima learns to live in her sister's shadow. On her sixth birthday, Kamikuu is chosen to become the next Oracle, serving the realm of light, while Namima is forced to serve the realm of darknessdestined to spend eternity guiding the spirits of the deceased to the underworld.
As the sisters undergo opposite fates, Namima embarks on a journey that takes her from the experience of first love to the aftermath of scalding betrayal. Caught in an elaborate web of treachery, she travels between the land of the living and the Realm of the Dead, seeking retribution and closure.
At the heart of this exquisitely dark tale, Kirino masterfully reimagines the ancient Japanese creation myth of Izanami and Izanaki. A provocative, fantastical saga, The Goddess Chronicle tells a sumptuous story of sex, murder, gods and goddesses, and bittersweet revenge.
About the Author
Natsuo Kirino is a prize-winning Japanese writer, most famous for her novel Out, which received the Grand Prix for Crime Fiction and was a finalist, in translation, for the 2004 Edgar Award. Four of her novels have been translated into English: Out, Grotesque, Real World and What Remains. Rebecca L. Copeland, professor of Japanese literature at Washington University in St. Louis, Missouri, received her Ph.D. in Japanese Literature from Columbia University in 1986. Her published works include The Modern Murasaki: Writing by Women of Meiji Japan (2006), co-edited with Dr. Melek Ortabasi; Woman Critiqued: Translated Essays on Japanese Women s Writing (2006); The Father-Daughter Plot: Japanese Literary Women and the Law of the Father (2001), co-edited with Dr. Esperanza Ramirez-Christensen; Lost Leaves: Women Writers of Meiji Japan (2000); and The Sound of the Wind: The Life and Works of Uno Chiyo (1992). She has also translated the works of Kirino Natsuo, Uno Chiyo, and Hirabayashi Taiko, among others."
Praise For The Goddess Chronicle…
"Fans of Kirino's crime novels will find much to savor in The Goddess Chronicle. . . . Kirino is a master at creating an atmosphere of unease and distrust between her characters. In her skillful hands we see that the divide between man and woman is greater than the one between humans and gods. Kirino's retelling is a taut, disturbing and timeless tale, filled with rage and pathos for the battles that women have to fight every day, battles which have, apparently, existed from the moment of creation." Tang Twan Eng, The Guardian

"A dark and lovely feminist retelling of the Japanese creation myth." NPR.com

"[An] enthralling tale of love, death and sisterhood. . . . It serves to immerse us in a world and mythology very different from our own. And yet, in the end, not so different." Washington Independent Review of Books

"Both realistic and dreamlike . . . Kirino writes lyrically as she spins a magical and ethereal tale." Kirkus Reviews

"A story of love and betrayal and then love once again. . . . A very good book that should be read and enjoyed by everyone." Minneapolis Examiner

"Kirino wows with her latest novel . . . [her] elegant writing brings Namimaa tragic, sympathetic heroineto vivid life. Readers will devour this tragic story and be left transformed." Publishers Weekly

"The central narrative is lyrical, with an impelling storyline that demands attention . . . This is a compelling tale, with foundations in an allegory-rich fable that more than deserves its rejuvenation." The Independent

"Kirino captures the rivalry-laced love of sisters, the bitterness of the female role in mythology and the destructive powers of yearning for vengeance." Shelf Awareness

"[The Goddess Chronicle] will make you think. There is a feel of the oral tradition of storytelling in this book that makes it seem like a story handed down from the older generation rather than a novel. One can almost imagine sitting with their grandmother and listening to this story and then passing it along to children of the next generation when the time comes. It is a feminist work in that it stars strong women in the lead roles and explores the roles of gender, but it is much more than that as well. It is a story of love and betrayal and then love once again. . . . A very good book that should be read and enjoyed by everyone." Minneapolis Examiner

"Charged with the power of Japanese myth, tempered by the author's resonant prose, and propelled by a young woman's love and sorrow, The Goddess Chronicle is a haunting fable, a literary phantasia." Alan Brennert, author of Moloka'i and Honolulu

"If you have enough time, I'm going to recommend you sit down and read this one straight through. . . . Although The Goddess Chronicle is not a mystery story, per se, I felt the same kind of insistent tug to read on that I get when reading mysteries." Three Percent

"Kirino's foray into folklore shares similarities with her earlier novels, namely, female characters who, wronged by lovers, choose to resist societal expectations and fight to rectify injustice. Readers who enjoy crime fiction or re-envisioned myth will find that this imaginative veneer works well on such reliable scaffolding." Booklist

"Kirino enjoys depicting her heavenly characters as capricious and temperamental, much like the Greek gods. Yet despite the very human motivations of all involved, Kirino maintains an air of intriguing supernatural strangeness." Metro

"A spectacle that includes multiple layers of opposing forces . . . [Kirino] uniquely depicts an unruly mythological world." Shincho Magazine

"In her wildly far-reaching tale of relations between gods and men, men and women, life and death, darkness and light, Kirino tells a peripatetic, global, and truly satisfying love story of how it is to be human." Stella Duffy, author of The Purple Shroud

"An extraordinary re-telling of one small piece of a body of myth often overlooked in the West. . . . Kirino's novel serves as a fascinating, approachable introduction to an ancient body of myth, thought and ritual." ZYZZYVA