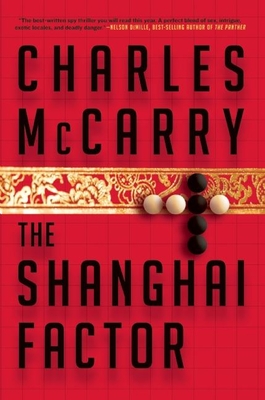 The Shanghai Factor
Hardcover

* Individual store prices may vary.
Other Editions of This Title:
Digital Audiobook (6/3/2013)
Paperback (4/21/2014)
CD-Audio (6/4/2013)
Compact Disc (6/4/2013)
MP3 CD (6/4/2013)
Description
Charles McCarry is widely considered one of the greatest espionage writers of the all-time, and in THE SHANGHAI FACTOR he returns to his roots with an absorbing tale of global skullduggery that leaves the reader guessing at every turn. A young, unnamed spy is living in Shanghai in order to observe and absorb the culture and language so as to aid a shadowy U.S. agency known only as 'HQ'. However when he meets a sultry and mysterious woman named Mei, they begin a torrid affair that threatens to expose him to HQ's enemies. Soon the head of HQ, Luther Burbank, gives the spy a task that will force him to risk everything: go undercover as the American ambassador for a massive Chinese multinational conglomerate, and learn the secrets of their powerful CEO Chen Qi, whom HQ believes to be a front man for the nearly uncrackable Chinese Intelligence, known as the Guoanbu. Soon the spy finds that HQ isn't the only one tracking his every move, and the deadly Guoanbu may be aware of his true identity. Danger lies around every corner, as the enigmatic Mei flits in and ouf of his life, yet every time he thinks he's closer to the truth, he finds himself drawn further into a deadly cat-and-mouse game between HQ and the Guoanbu that might not only end his life, but could upend the East/West balance of power.
Praise For The Shanghai Factor…
Thanks to Mr. McCarry's seamless style, "The Shanghai Factor" unfolds with compelling speed, propelled by intriguing incidents, well-drawn characters and authentic-ringing spy world aphorisms." The Wall Street Journal

McCarry manages to lend nearly every line, scene and chapter in this beautifully paced novel with a force and energy that makes for the very best fiction about espionage - plenty of sex, deception, travel and some murder in these pages...you'll want to read Charles McCarry's smart and utterly diverting spy trade masterwork." -Alan Cheuse, NPR

Charles McCarry has been compared to John le Carré but maybe le Carré should be compared to McCarry. The Shanghai Factor is certainly the best-written spy thriller you will read this year. A perfect blend of sex, intrigue, exotic locales, and deadly danger."
Nelson DeMille, best-selling author of The Lion's Game and The Panther

"Meticulous, intelligent prose is the real star of this excellent espionage thriller from former CIA operations officer McCarry...this book is a must-read for genre aficionados and McCarry's many fans." --Publishers Weekly (starred review)

"(A) nuanced, devilishly intricate thriller...Meticulous plotting, literate prose and mordant wit make this a thriller for connoisseurs of the genre." --Kirkus Reviews (starred review)

"The Shanghai Factor is wildly entertaining and further proof that McCarry is a modern master of the genre on a par with le Carre and Robert Littell." --Booklist (starred review)

Charles McCarry's superb gift to readers, The Shanghai Factor, is a mesmerizing story of a young American agent in play between his own outfit and China's Guoanbu. Rich in lore, tradecraft, deceit, character, twists, and jukes, beautifully written, the book reminds us that the old lions know best."
Stephen Hunter, best-selling author of Point of Impact and The Third Bullet

Charles McCarry is better than John le Carré. Which makes him perhaps the best ever. And this is his first long-form fiction in years. Excited yet? You should be. The Shanghai Factor is hypnotic, engaging, subtle, and deeply, deeply satisfying."
Lee Child, #1 New York Times best-selling author of the Jack Reacher series, most recently A Wanted Man

The Shanghai Factor is a brilliant espionage novel by the master of the form. It is also terrifying and astonishingly timely, dealing with the ominous threat of an undeclaredand victoriousChinese cyberwar with the U.S."
Joseph Finder, New York Times best-selling author of Buried Secrets and The Moscow Club

Charles McCarry is a master of intelligent, literate spy fiction. And that is why I believe you will like, really like, The Shanghai Factor."
Alan Furst, New York Times best-selling author of Mission to Paris and Spies of the Balkans

Only someone who has been a player can write about the Great Game of Espionage the way Charles McCarry does. In The Shanghai Factor, we are lured, page by page, paragraph by paragraph, into a fictional Heart of Darkness populated by a succubus straight out of the Gehenna of our nightmares. A great read by a master of the art and craft of espionage novels.
Robert Littell, author of The Company and The Stalin Epigram

Charles McCarry, the reigning grand master of American spy thriller writers, delivers one of his best novels in years with The Shanghai Factor, a compelling page turner that propels its characters through McCarry's complex plot and reveals our real world of shadow powers better than most factual' reporting. McCarry captures the hearts and minds of the mere mortals we call spies."
James Grady, author of Six Days of the Condor and Mad Dogs
Mysterious Press, 9780802121271, 336pp.
Publication Date: May 21, 2013
About the Author
Charles McCarry served under deep cover as a CIA operations officer in Europe, Asia, and Africa. He is the author of twelve previous critically acclaimed novels, as well as numerous works of non-fiction including Citizen Nader. He currently splits his time between Florida and the Berkshires.
Coverage from NPR
or
Not Currently Available for Direct Purchase