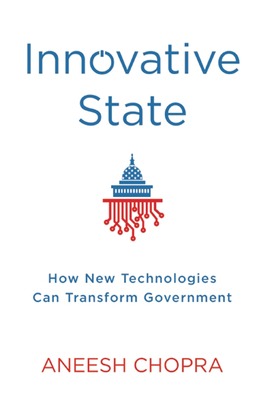 Innovative State
How New Technologies Can Transform Government
Hardcover

* Individual store prices may vary.
Other Editions of This Title:
Paperback (6/14/2016)
Description
Over the last twenty years, our economy and our society, from how we shop and pay our bills to how we communicate, have been completely revolutionized by technology. As Aneesh Chopra shows in Innovative State, once it became clear how much this would change America, a movement arose around the idea that these same technologies could reshape and improve government. But the idea languished, and while the private sector innovated, our government stalled, trapped in a model designed for the America of the 1930s and 1960s. The election of Barack Obama offered a new opportunity. In 2009, Aneesh Chopra was named the first Chief Technology Officer of the United States federal government. Previously the Secretary of Technology for Virginia and managing director for a health care think tank, Chopra was tasked with leading the administration's initiatives for a more open, tech-savvy government. Inspired by private sector trailblazers, Chopra wrote the playbook for governmental open innovation. In Innovative State he offers an absorbing look at how open government can establish a new paradigm for the internet era and allow us to tackle our most challenging problems, from economic development to affordable health care.
Praise For Innovative State: How New Technologies Can Transform Government…
Praise for Innovative State

Aneesh Chopra has been the leader of the movement to use technology to revolutionize government in the same way technology has been used to transform other aspects of our lives. With inspiring stories and clear insights, he provides a playbook for open innovations that work both in the public and the private sector."
Walter Isaacson

In an industry where market forces don't naturally foster innovation, Chopra has uncovered the playbook for improvement. Regardless of party or politics, Innovative State is a must read for anyone with a passion for fixing the problems facing modern government."
Clayton M. Christensen, Kim B. Clark Professor of Business Administration, Harvard Business School, and author of The Innovator's Dilemma

"Aneesh Chopra is an innovator, and an inspiration. Read his book to learn a ton of terrific news about what has been happening in American government, and about what might happen in the future. Prepare to be inspired!"
Cass Sunstein, Robert Walmsley University Professor, Harvard University

Aneesh Chopra is the real deal, focused on both inspirational ideas and effective implementation. In Innovative State, he shows how government can serve people better by adopting new approaches to information technology. If you believe in government, or even if you're frustrated by it, read this bookit will give you hope."
Peter Orszag, Former Director of the Office of Management and Budget

Praise for Aneesh Chopra

As the federal government's first Chief Technology Officer, Aneesh Chopra did groundbreaking work to bring our government into the 21st century. Aneesh found countless ways to engage the American people using technology, from electronic health records for veterans, to expanding access to broadband for rural communities, to modernizing government records. His legacy of leadership and innovation will benefit Americans for years to come."
President Barack Obama

Aneesh built one of the best technology platforms in government in the state of Virginia."
Eric Schmidt, executive chairman of Google

Chopra has been one of those who have taught me the most about how we can build a better government with the help of technology. Aneesh Chopra is a rock star. He's a brilliant, thoughtful change-maker. He knows technology, he knows government, and he knows how to put the two together to solve real problems."
Tim O'Reilly, chairman of O'Reilly Media

I've worked with Aneesh for a [couple of] years, and bear witness that he's the real deal, and has done a lot for the country, serving citizens well and providing a good return for the taxpayer dollar. In sum, he's helped connect entrepreneurs to our government in a spirit that makes you feel like we can invent our way out of our nation's biggest challenges."
Craig Newmark, founder of Craigslist

He's done a great job, enthusiastically talking about the role of technology and reinventing government, and how you open up this data to other people, but also been a great advocate and partner in a lot of their entrepreneurial initiative."
Steve Case, co-founder of AOL
Atlantic Monthly Press, 9780802121332, 288pp.
Publication Date: May 6, 2014
About the Author
Aneesh Chopra was the first Chief Technology Officer of the United States government. He is a graduate of Johns Hopkins and the Harvard Kennedy School of Government.
or
Not Currently Available for Direct Purchase