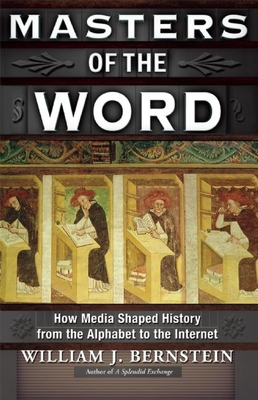 Masters of the Word
How Media Shaped History from the Alphabet to the Internet
Hardcover

* Individual store prices may vary.
Other Editions of This Title:
Paperback (7/8/2014)
Description
William J. Bernstein's A Splendid Exchange: How Trade Shaped the World, an Economist and Financial Times Best Book of the Year, placed him firmly among the top flight of historians like Jared Diamond and Bill Bryson, capable of distilling major trends and reams of information into insightful, globe-spanning popular narrative. Bernstein explains how new communication technologies and in particular our access to them, impacted human society. Writing was born thousands of years ago in Mesopotamia. Spreading to Sumer, and then Egypt, this revolutionary tool allowed rulers to extend their control far and wide, giving rise to the world's first empires. When Phoenician traders took their alphabet to Greece, literacy's first boom led to the birth of drama and democracy. In Rome, it helped spell the downfall of the Republic. Later, medieval scriptoria and vernacular bibles gave rise to religious dissent, and with the combination of cheaper paper and Gutenberg's printing press, the fuse of Reformation was lit. The Industrial Revolution brought the telegraph and the steam driven printing press, allowing information to move faster than ever before and to reach an even larger audience. But along with radio and television, these new technologies were more easily exploited by the powerful, as seen in Germany, the Soviet Union, even Rwanda, where radio incited genocide. With the rise of carbon duplicates (Russian samizdat), photocopying (the Pentagon Papers), the internet, social media and cell phones (the recent Arab Spring) more people have access to communications, making the world more connected than ever before. In Masters of the Word, Bernstein masterfully guides the reader through the vast history of communications, illustrating each step with colorful stories and anecdotes. This is a captivating, enlightening book, one that will change the way you look at technology, history, and power.

Praise For Masters of the Word: How Media Shaped History from the Alphabet to the Internet…
[Bernstein] enables us to see what remains the same, even as much has changed: Henry VIII had William Tyndale burned at the stake for making the Bible available in English; today, dictators and their henchmen beat up and murder protesters by the hundreds, likewise (simply put) to maintain control of information."Library Journal, Editors' Picks"

In Masters of the Word, a master storyteller, synthesizer, and historian shows us how the power of the word has toppled tyrants. I love reading what Bernstein writes."Ed Tower, Professor of Economics, Duke University

Masters of the Word takes you on a fascinating trip, from the invention of writing to the creation of the world-wide Web. Bernstein masterfully describes not just the inventions and the inventors that created modern media, but the forces underlying their impact. Riveting and thoroughly researched, it brims with interesting ideas and astonishing connections." Phil Lapsley, author of Exploding the Phone: The Untold Story of the Teenagers and Outlaws Who Hacked Ma Bell

Fascinating an engaging mix of theory, fact and enlightenment from across the millennia that wears its rich scholarship lightly."Peter Preston, The Guardian (UK)

This sweeping, although selective, historical narrative by award-winning financial historian Bernstein elucidates in highly readable fashion the role of media'in which he includes advances from ancient alphabets to movable type to twenty-first-century technologyin shaping civilization and determining democratic versus despotic tendencies. Bernstein's thesis that power accrues to the literate' should not be taken simplistically; his larger arguments are learned and elegantly made. His occasional invocation of modern phenomena in a nonmodern context lend charm and clarity to what might have otherwise been dauntingly erudite. Instead, Bernstein offers an accessible, quite enjoyable, and highly informative read that will hold surprises even for those familiar with some of the history he covers."Mark Levine, Booklist
Grove Press, 9780802121387, 420pp.
Publication Date: April 30, 2013
About the Author
Willliam J. Berstein is a financial theorist and historian whose books include The Four Pillars of Investing and A Splendid Exchange. He lives in Portland, Oregon.
or
Not Currently Available for Direct Purchase