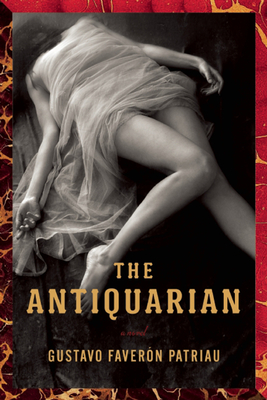 The Antiquarian
Paperback

* Individual store prices may vary.
Description
A Publishers Weekly Best Book of the Year A Best Book of the Summer: Los Angeles Times and Publishers Weekly An Amazon Best Book of the Month (Mystery, Thriller & Suspense) Three years have passed since Gustavo, a renowned psycholinguist, last spoke to his closest friend, Daniel, who has been interned in a psychiatric ward for murdering his fianc e. When Daniel unexpectedly calls to confess the truth behind the crime, Gustavo's long buried fraternal loyalty resurfaces and draws him into the center of a quixotic investigation. While Daniel reveals his unsettling story using fragments of fables, novels, and historical allusions, Gustavo begins to retrace the past for clues: from their early college days exploring dust-filled libraries and exotic brothels to Daniel's intimate attachment to his sickly younger sister and his dealings as a book collector. As the circumstances grow increasingly intricate, Gustavo is forced to deduce an sinister series of events from allegories that are more real than police reports and metaphors more revealing than evidence. With sumptuous prose and haunting imagery, Faver n Patriau has crafted an unforgettable, labyrinthine tale of murder, madness, and passion that is as entertaining as it is erudite and dark as it is illuminating.
Praise For The Antiquarian…
"An ambitious, complex novel . . . Those who read by simultaneously working with the writer, fantasizing alongside him, capable of enjoying the subtleties and secrets of a text as rich and profound as the text of this novel, will never forget it." Mario Vargas Llosa

"[The Antiquarian] possesses much of the unease and horror characteristic of Bolaño's work . . . beautiful and beguiling. . . . This perfect blend of page-turning narrative and knockout prose is as good as it getsPatriau's book is pure pitch-black fun." Publishers Weekly (starred review)

"Gustavo Faverón Patriau has written a dark, cruel and thrilling gem of a novel. There are shades of Borges fabulism here, and Calvino's Invisible Cities, but something more mysterious too, something gothic, something macabre. The Antiquarian is a novel about literature, war, madness and friendship, a startling read from the first sentence to the last." Daniel Alarcón, author of Lost City Radio and At Night We Walk in Circles

"A splendid neo-gothic tale. . . . It's the kind of read that alters your experience of reading." Dennis Haritou, Three Guys One Book

"Gustavo Faverón Patriau's The Antiquarian is a dazzling and unforgettable meditation on deception, obsession, and the search for truth. How rare it is to find a novel of ideas that never fails to entertain. How rare it is to find a novel that marries intelligent, intricate plotting with richly rewarding prose. I was privileged to find such a novel in THE ANTIQUARIAN, and once I had fallen headlong into Gustavo Faverón Patriau's mysterious and mythic creation, I couldn't bear to leave it." Laura van den Berg, author of The Isle of Youth
Grove Press, Black Cat, 9780802121608, 240pp.
Publication Date: June 3, 2014