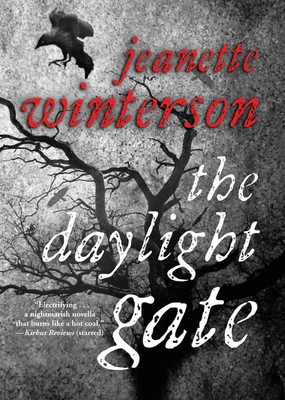 The Daylight Gate
Hardcover

* Individual store prices may vary.
Other Editions of This Title:
Paperback (10/14/2014)
MP3 CD (10/14/2014)
Compact Disc (10/14/2014)
Compact Disc (10/14/2014)
Description
The Daylight Gate, an instant bestseller in the UK, is award-winning Jeanette Winterson's singular vision of a dark period of complicated morality, sex, and tragic plays for power in a time when politics and religion were closely intertwined. After the Gunpowder Plot of 1605, every Catholic conspirator in England fled to a wild, untamed place far from the reach of London law. On Good Friday, 1612, deep in the woods of Pendle Hill, amid baptismal pools and low, thick fog, a gathering of thirteen is interrupted by the local magistrate. Two of their coven have already been imprisoned for witchcraft and are awaiting trial, but those who remain are vouched for by the wealthy and respected Alice Nutter. Shrouded in mystery and gifted with eternally youthful beauty, Alice is established in Lancashire society and insulated by her fortune. Yet she is also plagued by rumors of a dark and torrid love affair with another woman, the matriarch of the notorious Demdike clan. As those accused of witchcraft retreat into darkness, Alice stands alone as a realm-crosser, a conjurer of powers that will either destroy her or set her free.

Praise For The Daylight Gate…
"More than a re-imagining of a vanished moment. It is concerned with freedom, choice, and destiny, truth to emotion and to personal experience, the nature of conviction and belief, evil and, above all, good. . . . Winterson's intensely graphic descriptions of the witches' practices and their suffering create a fictional world of claustrophobic nightmarishness. . . . The Daylight Gate is angry, red in tooth and claw, bloody, suppurating, replete with an agony that is startlingly physical. . . . The novel is a tour de force of horror writing, but it never descends into shilling-shocker territory. It's an almost impossible balance for the writer to strike, but Winterson succeeds triumphantly. . . . Slips effortlessly between apparent realism and full-throttle fantasy, grotesquerie or burlesque. It makes for exhilarating if unsettling reading."The Saturday Times

Sophisticated . . . Visceral . . . Utterly compulsive, thick with atmosphere and dread, but sharp intelligence too."The Telegraph

"Gripping . . . The narrative voice is irrefutable; this is old-fashioned storytelling, with a sermonic tone that commands and terrifies. . . . [Winterson] knows where true horror lies. Not in fantastical dimensions, but in the terrestrial world. Most grotesque and curdling are the visceral depictions of seventeenth century Britainthe squalor, inequality, and religious eugenics. . . . As well as being a gripping Gothic read, the book provides historical social commentary on the phenomenon of witchcraft and witchcraft persecution."The Guardian

Vigorous . . . Filled with Winterson's characteristic intelligence and energy . . . This dark story with its fantastical trappings of magic and mysticism, its strong women and wild, Lancastrian setting is Winterson's natural habitat and she maps it with relish."New Statesman

"Part history, part legend, part fairy tale, Winterson's writing is vivacious and energetic. . . . Winterson has crafted a protagonist who is heroic and admirable but uncertain of her own destiny, a character who explores the emotional alchemy of ­female relationships. The Daylight Gate is a fast-paced, vivid novella that is every bit as dark, dangerous and sexually charged as one might expect from a storyteller of Winterson's calibre."Scotland on Sunday

"A story about the sacrifices people make for those they love . . . [Winterson]describes the area and the claustrophobic atmosphere beautifully. But her great skill as an author is most evident in the way she navigates past the cliches of the occult genre, while creating a novel of genuine horror. The Daylight Gate is an enthralling story unfussily told. I read it all in one sitting, only wishing there were more."London Evening Standard

"Dazzling . . . Winterson is a deft storyteller and a writer of wonderful economy. . . . Amid the blood, mud, and violence, [it is also] intensely poetic. . . . One of the very few contemporary novels that I actually wished were longer."Literary Review

"Winterson lavishly embroiders a tale rich in Gothic supernatural touches, but mainly accentuates the very real torment and degradation endured by [the] accused. . . . In a feverish climate, where fear of women and their sexuality often translated into rape and persecution, Winterson creates a deliciously dreadful tale that cleverly blurs the line between real and imagined horror."Metro (4 stars)

"The beauty of the writing, exemplary in its pared-down simplicity . . . [is] so seductive that by the middle I was hooked."The Independent
Grove Press, 9780802121639, 224pp.
Publication Date: October 1, 2013
About the Author
Born in Manchester, England, and adopted into a family of Pentecostal evangelists, Jeanette Winterson is the author of seventeen books, including Oranges Are Not the Only Fruit, Sexing the Cherry, and The Passion. She has won many prizes including the Whitbread Award for Best First Novel, the John Llewllyn Rhys Prize, the E. M. Forster Award, and the Stonewall Award.
Coverage from NPR
or
Not Currently Available for Direct Purchase