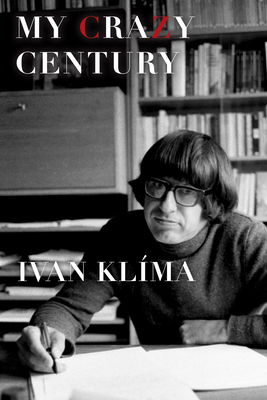 My Crazy Century (Hardcover)
Grove Press, 9780802121707, 534pp.
Publication Date: October 22, 2013
Description
"Klíma has endured as a writer, endured as a human being, writing of the great themes of freedom, honesty and love and politics, and gazing with an unsparing eye on the lies of Communism and the moral miasma of post-Communist freedom." BBC

Ivan Klíma, "a writer of enormous power and originality" (The New York Times Book Review), has penned an intimate autobiography that explores his life under two totalitarian regimes: Nazism and Communism. More than memoir, Klíma explores the ways in which the epoch and its dominating ideologies impacted the lives, character, and morality of his generation.

Klíma's story begins in the 1930s, in the Terezin concentration camp outside of Prague where he was forced to spend almost four years of his childhood. He reveals how the post-war atmosphere supported and encouraged the spread of communist principles over the next few decades and how an informal movement to change the system developed inside the Party. These political events form the backdrop to Klíma's experiences with the arrest and trial of his father, the early revolt of young writers against socialist realism, his first literary successes, and his travels to the free part of Europe, which strengthened his awareness of living in the midst of a colossal lie.

Klíma also captures the brief period of liberation during the Prague Spring of 1968, in which he played an active role, the Soviet invasion that crushed the political reforms, and the rise of the dissident movement up until the collapse of the communist regime in the midst of the Velvet Revolution of November, 1989.

Including insightful essays on topics related to social history, political thinking, love and freedom, My Crazy Century provides a profoundly rich and moving personal history of national evolution. Ivan Klíma's first autobiography and perhaps his most significant work, it encapsulates a remarkable life from the vantage point of one lived under occupation.

"Klíma engagingly portrays the complex path of his own thinking and his and his family's fate." Czech Literature
About the Author
Ivan Klima was born in Prague in 1931. He is the award-winning author of over 20 novels, including "Waiting for the Dark, Waiting for the Light," "No Saints or Angels," "The Ultimate Intimacy," and "Lovers for a Day"--all "New York Times" Notable Books of the Year.

Craig Cravens (translator) has taught Czech language and culture for over 10 years; he is currently a senior lecturer at Indiana State University. He has a PhD in Slavic languages and literature from Princeton University and a BA from Amherst College in Russian Literature.
Praise For My Crazy Century…
Praise for My Crazy Century

"A very successful memoir, which could serve as a guidebook for the 20th century, especially for the younger generation." Respekt

"Klíma traces an arc from 1967 to 1989, describing the developments of the Prague Spring, the August occupation, and twenty schizophrenic years of Normalization.' He of course pays attention not only to the so-called important events, but heads off into a very intimate sphere of personal experience." Literární Noviny

"We find in this book an unaffected testimony of tragic and absurd experiences, of injustice, wrongs, and first loves, of ever more successful artistic attempts, and later, of the fight against communist censors." iDnes

Praise for Ivan Klíma

"Rather than become embittered by his country's past, Klíma has come to a truce with imperfectionthe imperfection of history and of love." San Francisco Chronicle

"A Czech genius." Los Angeles Times Book Review

"Hope, guilt, the search for true close human contactthese are the themes to which Klima has been steadfast through a difficult lifetime." The New York Times
Advertisement