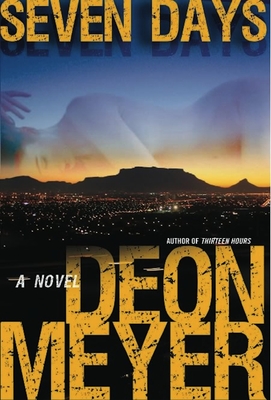 Seven Days
A Benny Griessel Novel
Paperback

* Individual store prices may vary.
Other Editions of This Title:
Digital Audiobook (9/3/2012)
CD-Audio (9/4/2012)
Compact Disc (9/4/2012)
MP3 CD (9/4/2012)
Hardcover (9/4/2012)
Description
"Sleekly done crime fiction layered with the cultural complexities of the new South Africa." --Joanne Wilkinson, Booklist
In Deon Meyer's Thirteen Hours, which won the Barry Award for Best Thriller in 2011, Cape Town homicide detective Bennie Griessel struggled to solve the murder of an American girl, find her missing friend, and avoid drinking again, all in a single day.
In Seven Days, Griessel is given another nearly impossible task. Two police officers have been shot, and the department has received emails from the shooter alleging corruption and a cover up in a cold case. The shooter quotes scripture and threatens more violence until the cold case is solved.
The case in question is the murder of Hanneke Sloet, an ambitious lawyer stabbed to death in her luxury apartment. There's no apparent motive, no leads, and no promising forensic evidence. There's no sign of a struggle either; the front door to Sloet's apartment was not damaged, so Griessel is sure she either knew the killer, or the killer had a key. All in all, the original inspector seems to have done a thorough job, only to come up empty.
The one piece of evidence that Griessel finds promising is a set of provocative professional photos of herself that Sloet kept in her apartment. Perhaps jealous rage was the motive? Sloet's ex-boyfriend, who works at a vineyard making barrels, had the strength, the connection, and the access to the right type of blade, but he has an alibi that checks out.
And then, another cop is shot.
Pressure ramps up on Griessel, and on his feisty colleague, Captain Mbali Kaleni, who is hunting the shooter, trying desperately to find a connection to Sloet as the number of injured rise. The emails keep coming, and the shooter reaches out to the media. And then, as if Griessel's life isn't complicated enough, his girlfriend Alexa Bernard, a singer who was in Thirteen Hours, falls off the wagon herself thanks to the pressure of a big comeback concert.
Seven Days is another fantastic novel from Deon Meyer, one of international crime fiction's stars. He has won major awards and is gaining new fans here, as his Barry Award and successful tour for Thirteen Hours can attest. Seven Days is a completely gripping read, a brilliant amalgam of thriller and mystery.
Grove Press, 9780802121745, 352pp.
Publication Date: October 1, 2013
About the Author
Deon Meyer is an internationally acclaimed, prize-winning author of seven crime novels, including Blood Safari, Thirteen Hours and Trackers. His books have been translated into twenty languages. He lives on the western coast of South Africa.
or
Not Currently Available for Direct Purchase