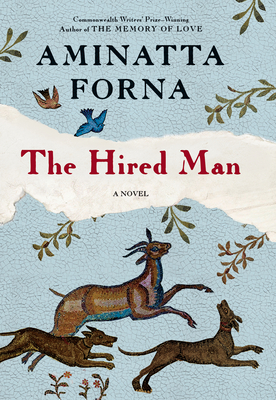 The Hired Man
Hardcover

* Individual store prices may vary.
Other Editions of This Title:
Digital Audiobook (9/30/2013)
Digital Audiobook (5/1/2013)
Paperback (10/14/2014)
Description
The new novel from the winner of the Commonwealth Writer's Prize, The Hired Man is a taut, powerful novel of a small town and its dark wartime secrets, unwittingly brought into the light by a family of outsiders. Aminatta Forna has established herself as one of our most perceptive and uncompromising chroniclers of war and the way it reverberates, sometimes imperceptibly, in the daily lives of those touched by it. With The Hired Man, she has delivered a tale of a Croatian village after the War of Independence, and a family of newcomers who expose its secrets. Duro is off on a morning's hunt when he sees something one rarely does in Gost: a strange car. Later that day, he overhears its occupants, a British woman, Laura, and her two children, who have taken up residence in a house Duro knows well. He offers his assistance getting their water working again, and soon he is at the house every day, helping get it ready as their summer cottage, and serving as Laura's trusted confidant. But the other residents of Gost are not as pleased to have the interlopers, and as Duro and Laura's daughter Grace uncover and begin to restore a mosaic in the front that has been plastered over, Duro must be increasingly creative to shield the family from the town's hostility, and his own past with the house's former occupants. As the inhabitants of Gost go about their days, working, striving to better themselves and their town, and arguing, the town's volatile truths whisper ever louder. A masterpiece of storytelling haunted by lost love and a restrained menace, this novel recalls Disgrace by J.M. Coetzee and Anil's Ghost by Michael Ondaatje. The Hired Man confirms Aminatta Forna as one of our most important writers.

Praise For The Hired Man…
Praise for The Hired Man

A masterful novel by a gifted writer lays bare the secrets and scars of past conflicts . . . [Forna] reveals her story at a pace of measured suspense until it reads like a slow-burn thriller. Her prose quietly grips us by the throat and then tightens its hold. It is storytelling at its most taut." Arifa Akbar, The Independent (UK)

If her second novel The Memory of Love, set in Africa, confirmed Forna's flair for writing about war and its aftermath, The Hired Man seals her reputation as arguably the best writer of fiction in this field. . . . The intelligence of Forna's storytelling is testament to a woman who . . . has deep emotional resources. . . . This is a novel to be passed on judiciously, like a special gift, a tale of two summers you may well want to read twice."Jackie Annesley, London Evening Standard

Forna writes sensitively about the power of a history that is both terrible and banal. . . . Duro's voice carries the narrative with a solidity and complexity that is very satisfying.."Helen Dunmore, The Times (London)

[Forna] has a terrific ability to evoke the poisonous atmosphere of culpability and denial from which civil conflicts emerge. . . . [and] the atmosphere of festering tension in which perpetrators of the most grotesque acts of violence continue to live side by side. . . . The Hired Man triumphantly proves that the story need not always remain the same."Alfred Hickling, The Guardian (UK)

Aminatta Forna . . . crafts a story that initially seduces with intense and vivid physical detail, low, sour wit and a suggestion of romance, before twistingwithout the reader even fully registeringit into a knotty, powerfully ambiguous allegory for collective trauma and negotiation with historical pain. . . . For all its poignancy and political seriousness, her book also lends a salty, Hemingway-esque enjoyment to its evocations of deadly adventure. . . . It's a sharp, pertinent, absorbing story told by a writer of extreme giftsone who disappears into her narrative and her characters, and who makes every nuance of surface communication and behavior revealing of deeper truths. Forna is brilliant."Hannah McGill, The Scotsman (UK)

The way . . . conflict can force apart a community like water creeping through brickwork is something [Forna] understands well."Claire Allfree, Metro (London)


Praise for The Memory of Love

[A] luminous tale of passion and betrayal. . . . At the core of this novel is the brave and beating heart, at once vulnerable and determined, unwilling to let go of all it has ever loved."Maaza Mengiste, The New York Times Book Review

A poignant story about friendship, betrayal, obsession and second chances Bold, deeply moving and accomplished, [Forna's novel] confirms her place among the most talented writers in literature today."Commonwealth Writers' Prize judges

Often darkly funny, written with gritty realism and tenderness, The Memory of Love is a profoundly affecting work."Kiran Desai, winner of the Man Booker Prize for The Inheritance of Loss

A remarkable feat of storytelling . . . [and] a thrilling story of friendship and betrayal."Karen Holt, Essence

[An] elegantly rendered novel of loss and rehabilitation . . . [that] coalesces into an ambitious exploration of trauma and storytelling." Jessica Loudis, San Francisco Chronicle

The real pleasure of Forna's storytelling is in her scrutiny of her characters' inner lives and her ability to connect their choices to the moral dilemmas of a traumatized society."The New Yorker

[Forna's] visceral appreciation of her troubled country is evident on every page of The Memory of Love. So, too, is her probing intelligenceand her compassion."Brooke Allen, Salon.com
Atlantic Monthly Press, 9780802121912, 293pp.
Publication Date: October 1, 2013
About the Author
Aminatta Forna is the author of two novels, Ancestor Stones and The Memory of Love, and The Devil That Danced on the Water, a memoir of her activist father, and her country, Sierra Leone. She lives in London.
or
Not Currently Available for Direct Purchase