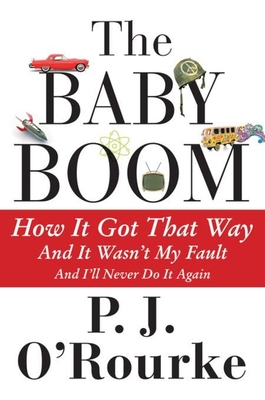 The Baby Boom
How It Got That Way and It Wasn't My Fault and I'll Never Do It Again
Hardcover

* Individual store prices may vary.
Other Editions of This Title:
Paperback (11/1/2014)
MP3 CD (6/3/2014)
Compact Disc (6/3/2014)
Compact Disc (6/3/2014)
Description
P.J. O'Rourke began writing funny things in 1960s "underground" newspapers, became editor-in-chief of National Lampoon, then spent 20 years reporting for Rolling Stone and The Atlantic Monthly as the world's only trouble spot humorist, going to wars, riots, rebellions, and other "Holidays in Hell" in more than 40 countries.
Now O'Rourke, born at the peak of the Baby Boom, turns his keen eye on himself and his 75 million accomplices in making America what it is today. With laughter as an analytical tool, he uses his own very average, if sometimes uproarious experiences as a key to his exceptional age cohort. He writes about the way the post-war generation somehow came of age by never quite growing up and created a better society by turning society upside down.
THE BABY BOOM: How it Got That Way... And It Wasn't My Fault... And I'll Never Do It Again is at once a social history, a group memoir of collectively impaired memory, a hilarious attempt to understand his generation's messy hilarity, and a celebration of the mess the Baby Boom has made.
Praise For The Baby Boom: How It Got That Way and It Wasn't My Fault and I'll Never Do It Again…
Praise for The Baby Boom:

"Prolific political and social commentator O'Rourke, author of 17 books, including the bestselling Parliament of Whores, has created here a thoughtful portrait of the baby boomer generation and what its members have done for the American way of life, and the way we talked everybody into letting us get away with it." While O'Rourke acknowledges that sweeping generalizations about millions of Americans do not always apply, he seems to feel comfortable enough standardizing boomers at large as creatures of self-interest, hypocrisy, and hysteria. But even while discussing annual income and per capita GDP, O'Rourke maintains the dry wit that makes every chapter a delight, even if the picture they form is incomplete. The hilarity is helped along by plenty of anecdotes from his own life as a boomer, including the tale of when O'Rourke's underground newspaper was occupied overnight by Balto-Cong radicals. As a cultural analyst, O'Rourke's ability and willingness to simultaneously lampoon and celebrate himself and his generation are unequaled." - Publishers Weekly

P.J. O'Rourke's Baby Boom may just be his best book ever. Teems with heart and humor -- much of it laugh out loud, or as the post-boomers would say, LOL -- as well as with his trademark brilliant social commentary. A terrific American memoir, in tone a beguiling mix of Jean Shepherd and "Animal House." In fact, I'm going to revise my prior statement and say flat-out that this is O'Rourke's best book ever, which is a saying a lot."- Christopher Buckley

"His simultaneously hilarious and brainy new book, "The Baby Boom: How It Got That Way And It Wasn't My Fault And I'll Never Do It Again," holds a cracked magnifying glass up to the generation of Americans born between the end of World War II and the early 1960s. Sifting through demographic and economic data and combining the results with generous portions of personal memories, O'Rourke finds much to deplore in the boomer character, but even more to cherish and celebrate." -- Chicago Tribune

"Better than an Ed Sullivan marathon, more enjoyable than Beach Boys Radio Weekend, and more fun than cleaning out your parents' attic, this book is a boomer's delight. If your bags are packed for a trip down memory lane, 'The Baby Boom' is a book you'll want to remember to take with you." -- The Spectrum

Praise for P.J. O'Rourke:

A prolific humorist continues his outpouring of solid writing. . . some very fine travel writing, the best of which is wickedly droll O'Rourke at his very best. . . . Here's hoping there's another 15 books still to come."Los Angeles Times on Holidays in Heck

If all of America's registered Republicans were struck by an ideology-specific bird flu, and 50 among them had to be placed in a secure bunker to repopulate the species entirely, P.J. O'Rourke would hold a place on many people's list, mine included. He's funny. He tends to be against boredom and in favor of the pursuit of nonsobriety. He has a sharp nose for cant and bogusness. His conservatism is rooted in a fondness for ordinary things and a philosophy of individual common sense." Dwight Garner, The New York Times on Holidays in Heck

O'Rourke is an actual conservative, with ideas and a conscience, as opposed to the stealth flacks staying on party message that often pass for conservatives in these Hannitized and Limbaughtomized days."Chicago Sun-Times on Peace Kills

Mocking on the surface but serious beneath, sharply attuned to quotidian hypocrisy and contradiction...this book contains some of O'Rourke's best work to date. When it comes to scouting the world for world-class absurdities, he is the right man for the job."Los Angeles Times Book Review on Give War a Chance

His explanations . . . with a-joke-each-phrase aplomb (forget waiting until the end of the sentence) make you wish he had been your economics professor in college instead of the bow-tie wearing nerd who droned on about widgets. In fact, if you fell asleep hiding your eyelids under the rim of your baseball cap during Econ 101, this book is for you."The Philadelphia Inquirer on Eat the Rich

Highly pungent and wickedly accurate observations . . . [from a] boisterous, pedal-to-the-floor humorist . . . The results would curl the ponytails of most poli-sci professors."The New York Times Book Review on Parliament of Whores

An acerbic master of gonzo journalism and one of America's most hilarious and provocative writers . . . a volatile brew of one-liners and vitriol."TIME on Give War a Chance
Atlantic Monthly Press, 9780802121974, 263pp.
Publication Date: January 7, 2014
About the Author
P. J. O'Rourke was born and raised in Toledo, Ohio, and attended Miami University and Johns Hopkins. He began writing funny things in 1960s "underground" newspapers, became editor-in-chief of "National Lampoon," then spent 20 years reporting for "Rolling Stone" and "The Atlantic Monthly" as the world's only trouble-spot humorist, going to wars, riots, rebellions, and other "Holidays in Hell" in more than 40 countries. He's written 16 books on subjects as diverse as politics and cars and etiquette and economics. His book about Washington, "Parliament of Whores," and his book about international conflict and crisis, "Give War a Chance," both reached #1 on the "New York Times" best-seller list. He is a contributing editor at "The Weekly Standard," H. L. Mencken fellow at the Cato Institute, a member of the editorial board of "World Affairs" and a regular panelist on NPR's "Wait... Wait... Don't Tell Me." He lives with his family in rural New England, as far away from the things he writes about as he can get.
or
Not Currently Available for Direct Purchase