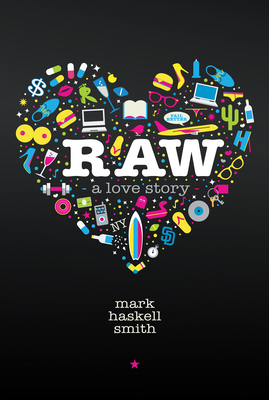 Raw
A Love Story
Paperback

* Individual store prices may vary.
Other Editions of This Title:
Digital Audiobook (1/7/2016)
Description
Only an imaginative satirist can outpace the world's absurdity, but Mark Haskell Smith manages it with Raw, a super-fun, super-wild, and sneakily thoughtful take on American literary and entertainment excess.--Steve Hely, author of How I Became a Famous Novelist Sepp Gregory, a reality-TV hunk and one of People magazine's sexiest men alive, is on tour to promote his debut novel. Not that Sepp's actually read the book--he doesn't have to, he lived it And everyone just wants him to take his shirt off. The book has hit the bestseller list and is even getting rave reviews from serious critics. Aside from Harriet Post, that is. One of the blogosphere's most respected literary minds, Harriet fears that the novel's reception means the end of civilization is upon us. Determined to pen an expose on the publishing industry, Harriet hijacks the book tour and uncovers the ghostwriter. Reality and reality collide, and a tragic accident sends Sepp and Harriet off on a sex-fueled roadtrip through the southwest. Raw: A Love Story is Mark Haskell Smith at his raucous best, dangerously sexy and wickedly funny.
Praise For Raw: A Love Story…
Gleefully absurd. . . . [Smith] turns what could have been just an amusing book into an incisive, caustic and hilarious one. . . . He's able to pull it off because his prose is so hard-boiled and self-assuredhe comes across as the slightly more well-adjusted offspring of Hunter S. Thompson and James Ellroy. . . . A hilarious andoccasionallyan unexpectedly sweet illustration of why we write and read in the first place."Los Angeles Times

Audacious satire."Vanity Fair

Outrageous. . . . consistently surprising, fast-paced and nearly always funny, Raw is more than just a lively romp. Smith saves his best satire for a topic he knows all too well: the publishing industry. In Raw . . . Smith skewers it with as much gleeful zeal as he attacks his much easier targets."Daily Beast

No contemporary pop culture touchstone or literary idol emerges from the book unscathed by Smith's playful scrutiny."Los Angeles Magazine

Readers familiar with Mark Haskell Smith's novels know all about the sharp, oddball sense of humor that permeates Raw. For those who don't, think somewhere along the lines of Carl Hiaasensocial commentary combined with outrageous laughs. . . . [A] brash and brainy slice of satire that skewers our base and high-minded interests in one fell swoop. . . . Hilarious."Shelf Awareness

[A] fast-paced, funny send-up of both high and pop culture."Penthouse

Subversively funny. . . . Think Don DeLillo meets Jersey Shore.'"The Wrap

The four strangers brought together in Raw are at times so vivid that you want to meet them. . . . [A] fast (and fun) story."Los Angeles Review of Books

Amusing and intermittently outright funny. . . . [Smith's] caricatures land squarely on the mark."Boston Globe

Crazy stuff happens, and it's a joy to be inside the drama. The more Technicolor the plot, the more addictive it becomes. . . . . One helluva good read."—The Millions

More surprising than any book I've read since before The Jersey Shore was on-air. . . . Haskell Smith's deft hand with both high- and low-brow culture makes Sepp a main character rather than a caricature. . . . Raw's whole-hearted and non-judgmental embrace of reality . . . really makes it (and Sepp) shine."Bustle

Satire of the highest order. . . . Smith succeeds because he knows better than to make fun of his subjects or turn them into silly caricatures."PopMatters

"Only an extremely imaginative satirist can outpace the world's absurdity, but Mark Haskell Smith manages it with Raw, a super fun, super wild, and sneakily thoughtful take on American literary and entertainment excess."Steve Hely, author of How I Became a Famous Novelist

Hot and ebullient, hilarious and riveting. Smith pulls the pants off reality television and America's serious' literary culture, and that's just the metaphorical nakedness. Who knew a book about the difficulty of sustaining deeply felt emotion could be so much fun? Or that a penis on YouTube might sing Lionel Richie? Hair-raising and essential reading."Sara Levine, author of Treasure Island!!!

Raw, the latest from the endlessly entertaining Mark Haskell Smith, is a fast, funny, freaky fusion of two unlikely worlds: literature and reality TV. I'm not going to pretend I don't love both, and Smith brings the awesomeness together like a literary Peanut Butter Cup. What could be better?"Elizabeth Crane, author of We Only Know So Much

Thoroughly enjoyable. . . . By turns racy and profound."Booklist

"LA writer Smith is back with another frothy satire."Kirkus Reviews

"Dark, priapic satire."The Millions
Grove Press, Black Cat, 9780802122018, 352pp.
Publication Date: December 3, 2013
About the Author
Mark Haskell Smith is the author of five novels, Moist, Delicious, Salty, Baked, and Raw, and the non-fiction Heart of Dankness: Underground Botanists, Outlaw Farmers, and the Race for the Cannabis Cup. His work has also appeared in the Los Angeles Times, Vulture, National Post, and the Los Angeles Review of Books. Smith is an award-winning screenwriter and assistant professor in the MFA program for Writing and Writing for the Performing Arts at the University of California, Riverside, Palm Desert Graduate Center. He lives in Los Angeles. He likes Mexican food.