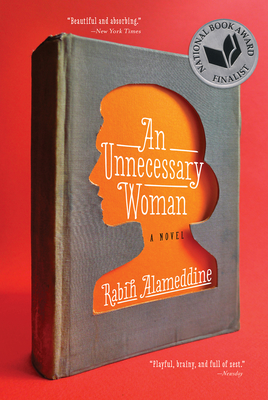 An Unnecessary Woman
Hardcover

* Individual store prices may vary.
Other Editions of This Title:
Paperback (11/11/2014)
MP3 CD (8/5/2014)
Compact Disc (8/5/2014)
Description
Winner of the California Book Award Finalist for the National Book Critics Circle Award Finalist for the National Book Award "Beautiful and absorbing."--New York Times An Unnecessary Woman is a breathtaking portrait of one reclusive woman's late-life crisis, which garnered a wave of rave reviews and love letters to Alameddine's cranky yet charming septuagenarian protagonist, Aaliya, a character you "can't help but love" (NPR). Aaliya's insightful musings on literature, philosophy, and art are invaded by memories of the Lebanese Civil War and her volatile past. As she tries to overcome her aging body and spontaneous emotional upwellings, Aaliya is faced with an unthinkable disaster that threatens to shatter the little life she has left. Here, the gifted Rabih Alameddine has given us a nuanced rendering of one woman's life in the Middle East and an enduring ode to literature and its power to define who we are. "A paean to the transformative power of reading, to the intellectual asylum from one's circumstances found in the life of the mind."--LA Review of Books " The novel] throbs with energy... Aaliya's] inventive way with words gives unfailing pleasure, no matter how dark the events she describes, how painful the emotions she reveals."--Washington Post

Praise For An Unnecessary Woman…
Praise for AN UNNECESSARY WOMAN

[I]rresistible [the author] offers winningly unrestricted access to the thoughts of his affectionate, urbane, vulnerable and fractiously opinionated heroine. Aaliya says that when she reads, she tries to 'let the wall crumble just a bit, the barricade that separates me from the book.' Mr. Alameddine's portrayal of a life devoted to the intellect is so candid and human that, for a time, readers can forget that any such barrier exists."Wall Street Journal

Alameddinehas conjured a beguiling narrator in his engaging novel, a woman who is, like her city, hard to read, hard to take, hard to know and, ultimately, passionately complex."San Francisco Chronicle

You can't help but love this character."Arun Rath, NPR's All Things Considered

A restlessly intelligent novel built around an unforgettable charactera novel full of elegant, poetic sentences."Minneapolis Star Tribune

I can't remember the last time I was so gripped simply by a novel's voice. Alameddine makes it clear that a sheltered life is not necessarily a shuttered one. Aaliya is thoughtful, she's complex, she's humorous and critical."NPR.com

"An intimate, melancholy and superb tour de force...Alameddine's storytelling is rich with a bookish humor that's accessible without being condescending. A gemlike and surprisingly lively study of an interior life."Kirkus(starred review)

Studded with quotations and succinct observations, this remarkable novel by Alameddine is a paean to fiction, poetry, and female friendship. Dip into it, make a reading list from it, or simply bask in its sharp, smart prose." Michele Leber, Booklist (starred review)

"Alameddine's most glorious passages are those that simply relate Aalyia's thoughts, which read like tiny, wonderful essays. A central concern of the book is the nature of the desire of artistic creators for their work to matter, which the author treats with philosophical suspicion. In the end, Aalyia's epiphany is joyful and freeing."Publishers Weekly (starred review)

"Acclaimed author Alameddine (The Hakawati) here relates the internal struggles of a solitary, elderly woman with a passion for books...Aaliya's life may seem like a burden or even "unnecessary" to others since she is divorced and childless, but her humor and passion for literature bring tremendous richness to her day-to-day lifeand to the reader's... Though set in the Middle East, this book is refreshingly free of today's geopolitical hot-button issues. A delightful story for true bibliophiles, full of humanity and compassion."Library Journal

An Unnecessary Woman dramatizes a wonderful mind at play. The mind belongs to the protagonist, and it is filled with intelligence, sharpness and strange memories and regrets. But, as in the work of Calvino and Borges, the mind is also that of the writer, the arch-creator. His tone is ironic and knowing; he is fascinated by the relationship between life and books. He is a great phrase-maker and a brilliant writer of sentences. And over all this fiercely original act of creation is the sky of Beirut throwing down a light which is both comic and tragic, alert to its own history and to its mythology, guarding over human frailty and the idea of the written word with love and wit and understanding and a rare sort of wisdom."Colm Toibin

"The extraordinary if unnecessary" woman at the center of this magnificent novel built into my heart a sediment of life lived in reverse, through wisdom, epiphany, and regret. This womanAaliya is her namefor all her sly and unassuming modesty, is a stupendous center of consciousness. She understands time, and folly, and is wonderfully comic. She has read everything under the sun (as has her creator, Alameddine), and as a polyglot mind of an old world Beirut, she reminds us that storehouses of culture, of literature, of memory, are very fragile things indeed. They exist, shimmering, as chimeras, in the mind of Aaliya, who I am so happy to feel I now know. Her particularity, both tragic and lightly clever, might just stay with me forever."Rachel Kushner

"There are many ways to break someone's heart, but Rabih Alameddine is one rare writer who not only breaks our hearts but gives every broken piece a new life. With both tender care and surgical exactness, An Unnecessary Woman leads us away from the commonplace and the mundane to enter a world made of love for words, wisdom, and memories. No words can express my gratitude for this book."
Yiyun Li

"With An Unnecessary Woman, Rabih Alameddine has accomplished something astonishing: a novel that is at once expansive and intimate, quiet and full of feeling. Aaliya is one of the more memorable characters in contemporary fiction, and every page of this extraordinary novel demands to be savored and re-read."Daniel Alarcón

An Unnecessary Woman offers a testament to the saving virtue of literature and an unforgettable protagonist . . . . Alameddine maintains a steady electric current between past and present, fantasy and reality."D Repubblica (Italy)

A contemporary fable about passion: passion for literature and the passions of love."L'Unita (Italy)

Passion is the key to this book, which has already been hailed as a masterpiece: passion for a man, and passion for books."Oggi (Italy)
Grove Press, 9780802122148, 320pp.
Publication Date: February 4, 2014
About the Author
Rabih Alameddine is the author of the novels Koolaids, I, the Divine, and The Hakawati, and the story collection The Perv.
Coverage from NPR
or
Not Currently Available for Direct Purchase