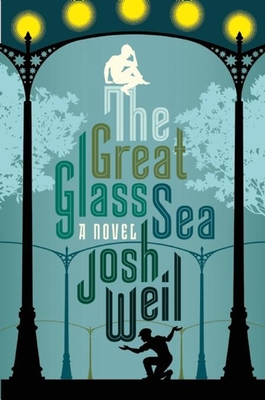 The Great Glass Sea
Hardcover

* Individual store prices may vary.
Other Editions of This Title:
MP3 CD (5/31/2016)
Paperback (6/2/2015)
Description
From celebrated storyteller Josh Weil comes a sui generis epic swathed in all the magic of Russian folklore and set against the dystopian backdrop of an all too real alternate present. Twins Yarik and Dima have been inseparable since childhood. Living on their uncle's farm after the death of their father, the boys once spent their days helping farmers in fields, their nights spellbound by their uncle's tales. Years later, they labor together at the Oranzheria, a sea of glass erected over acres of cropland and lit by space mirrors that ensnare the denizens of Petroplavilsk in perpetual daylight. Now the twins have only work in common--stalwart Yarik married with children, oppressed by the burden of responsibility; dreamer Dima living alone with his mother, wistfully planning the brothers' return to their uncle's land. But an encounter with the Oranzerhia's billionaire owner changes their lives forever and soon both men find themselves poster boys for opposing ideologies that threaten to destroy not only the lives of those they love but the love that has bonded them since birth. A breathtakingly ambitious novel of love, loss, and light, set amid a bold vision of an alternative present-day Russia.

Praise For The Great Glass Sea…
Praise for THE NEW VALLEY

Full of tenderness and looming menace . . . Gripping . . .Weil meticulously imagines people and their histories, and presents them as a product of their places. This is perhaps the hardest thing for a fiction writer of any age, working in any form, to accomplish. . . . Keep writing novellas, Josh Weil, because you write very good ones. You think on it, and we'll watch."Anthony Doerr, The New York Times Book Review

In these three beautiful novellas, the sky above and the soil below bear witness to stories so elemental and stunningly intricate that they seem carved from hickory. Weil carefully roots out these men from their hiding places, watching over his flock of lost souls with unbounded empathy. . . . It's hard sculpting beauty out of so much mud. Writing about plain-mouthed, flawed, of-the-earth characters requires understanding, much compassion, and a kind heart. . . . [Weil] gives voice to those without, to those entombed on forgotten hillsides, to those orphaned and tending calves and tractors, reminding us that no matter how isolated, how lonely, tender hearts burn everywhere, they burn bright, and they burn on."Don Waters, Believer

Powerful, masterful, haunting, and utterly unique."Robert Goolrick

Weil's prose is quiet and assured . . . These stories are real heartbreakers, ringing true with loss and loneliness. . . . Finely crafted . . . Unforgettable."Susan Larson, New Orleans Times-Picayune

Keenly observed . . . Absolutely and utterly devastating . . . Weil's major talentand it is majorlies in making the gears and levers of the book operate seamlessly, like the engines and equipment that litter its pages. He writes with little pretense or adornment, content to let the story come to him. . . . The New Valley does not feel exploitative or condescending. Every word feels necessary. Weil's keen observational eye brings the smallest details of the lives of these three men to light, and their acuity makes his other analyses gleam with truth. . . . Weil makes the reader aware of [his characters'] humanity, and their emotions and heartbreak give this book a quiet heaviness, like the Blue Ridge Mountains that loom in the background."James Scott, The Rumpus

[A] meticulous and imaginative portrayal of characters shaped by rural life."Narrative magazine (Writers to Watch)

Critics claiming that American short fiction is on life-support should sample the healing elixir of Josh Weil's breakout collection. In this mesmerizing debut, Weil offers up three razor-sharp novellas . . . that ring sincere and rarely hit a false note. . . . These are quiet stories of struggle, survival, heartbreak and grace. . . . Readers will find glimpses of Bobbie Ann Mason's depictions of the small-town poor mixed with Annie Proulx's evocative landscape language. . . . [Weil's] writing is understated [and] as strong as steel."Cody Corliss, Charleston Gazette-Mail

Weil's debut is a stark and haunting triptych of novellas set in the rusted-out hills straddling the border between the Virginias. . . . Taken individually, each novella offers its own tragic pleasure, but together, the works create a deeply human landscape that delivers great beauty."Publishers Weekly (starred review)

A restive nobility binds the sorrowful protagonists of Weil's stellar debut collection of novellas, each a tender anthem to a starkly unforgiving Virginia countryside and the misguided determination of its most forsaken residents. . . . Throughout, Weil limns a rugged emotional landscape every bit as raw and desolate as the land that inspired it, delivering an eloquent portrait of people who defiantly cling to a fierce independence."Carol Haggas, Booklist

I was captivated and moved by each of these finely made novellas. The quiet, mostly ordinary lives of the characters who populate The New Valley shine with a strange and intense luminosity that is at times heartbreaking, at other times triumphant. There is a magic and gentle beauty in this book that makes me remember why I had always wanted to be a writer."Tim O'Brien

Josh Weil's debut book The New Valley has a sense of the notable on every page. This is the very rare but clear case of the sky being the limit for a young author." Jim Harrison

Josh Weil is a terrific young writer. His sense of what is crucial and dramatic make his stories deeply alive."John Casey

In these meticulously crafted narratives about rural life in the Virginia hill country, Josh Weil explores masculine loneliness with classic richness and depth. This is old-fashioned storytelling in the very best sense."Helen Schulman, author of P.S. and A Day at the Beach

This is beautiful, heartrending fiction. With deep pathos and stunning imagination, Weil gives a powerful voice to lives too often ignored and throws brilliant light on places in our countryand our heartsthat are too often in the dark. The New Valley marks the arrival of an important new writer in American letters."Bret Anthony Johnston, author of Corpus Christi: Stories

In Josh Weil's soulful debut fiction, hard, wintery men bring the near-dead back to life. A steer, a tractor, a woman bolt upright, clearly heart-charged by the obsessive attentions of these cut-off men. The prose unfailingly befits the action and is percussively wrought and rich or else plain and grave but always deeply moving."Christine Schutt, author of All Souls and Florida, a National Book Award Finalist

While I read these novellas, I realized at some point early on I kept holding my breath. Why? Because Josh Weil's stories are about people who tell no one anything, evermen who know more cattle than they do people, and who trust the cattle more. Men who shrug off their heartbreak and die with their secrets. By turns sweet, funny, heartbreaking, and terrifying, Josh Weil makes his quietly powerful debut."Alexander Chee, author of Edinburgh

Weil's domain is the parallel world of rural America that still exists just outside the swaddled precincts of the 21st century. His prosetaut, precise, as unflinching as it is tender, particularly in Ridge Weather'suggests a strong new voice in American fiction."Mark Slouka, author of The Visible World

Beware these seemingly quiet novellas: they hit hard. Josh Weil has created devastatingly memorable characters of people rarely noticed and never loved. With remarkable skill and insight, he has located the spot in the human heart where loneliness resides. Exquisitely written, deeply felt, and haunting, The New Valley is a beautiful book."Binnie Kirshenbaum, author of The Scenic Route

With The New Valley, Josh Weil makes a spectacular entry in the art of American storytelling. His rendering of place is strong as Flannery O'Connor's; his engagement with the moral landscape as sure as Cormac McCarthy's. In their contemplation of the past, Weil's charactersearthy, scrappy, often comicseek restoration. These three fine novellas remind us with wit and energy that we are all in for repair."Maureen Howard

[The New Valley] is quite an achievement. . . . Josh Weil uses beautiful, stunning words to define men who don't have the first idea how to define themselves. . . . In sentence after sentence, on page after page, Weil hammers out these men on nothing less than an anvil of language. You can almost feel the searing heat as the tales are pounded into shape. So much seems to have been stripped back, the superfluous peeled away until almost the bare skeleton of story and character remain. Yet he leaves us telling details tooand they sing. In high contrast to the hard edges of these stories, the author sprinkles in gentle, striking images. . . . There's an enviable depth to these characters, a layering of ideas that brings them to life in ways that might very well surprise even them. The tales walk up to you with confidence and look you square in the eye, unflinching. I am here, they say. Take me or leave me. The novellas aren't like the men they portray; it feels more like they are the men they portray. In langauge that's sure, quick, and almost magical in its ability conjure dimension from flat paper, Josh Weil has created portraits of hard lives that will stand the test of time."Tony Buchsbaum, January magazine (online)

PRAISE FOR JOSH WEIL

Weil's prose is quiet and assured."Susan Larson, New Orleans Times-Picayune

[Weil's] language is exquisite, his sentences glorious. In fact, [he] writes the kinds of sentences you want to go sniff and then slosh around in your mouth for a while before heading into the next paragraph. The kind that make you set the book down and think, the kind that can break your heart with their truthful simplicity." Sherri Flick, Ploughshares

He writes with little pretense or adornment, content to let the story come to him...Every word feels necessary."James Scott, The Rumpus
Grove Press, 9780802122155, 474pp.
Publication Date: July 2, 2014
About the Author
Josh Weil was the recipient of the Sue Kaufman Prize for First Fiction for his debut novella collection, The New Valley. He has been named a National Book Award "5 Under 35" author, a Fulbright scholar, and was a Jersey Fellow at Columbia University. His fiction has appeared in Granta, StoryQuarterly, and New England Review, among others. Weil divides his time between New York City and Southwestern Virginia.
Coverage from NPR
or
Not Currently Available for Direct Purchase