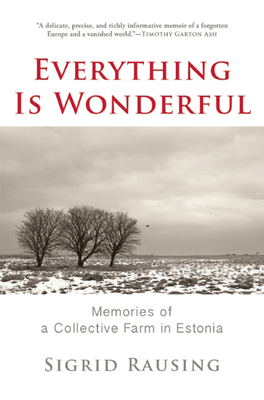 Everything Is Wonderful
Memories of a Collective Farm in Estonia
Hardcover

* Individual store prices may vary.
Other Editions of This Title:
Paperback (3/8/2016)
Description
Just like it was taken for granted that houses could be abandoned and slowly decay, so it was taken for granted that people died in prisons, and that it was possible that no-one would really ever know the cause of death. This is the nature of totalitarianism. In 1993-94 Sigrid Rausing completed her anthropological fieldwork on the peninsula of Noarootsi, a former Soviet border protection zone in Estonia. Abandoned watch towers dotted the coast line, and the huge fields of the Lenin collective farm were lying fallow, waiting for claims from former owners, fleeing war and Soviet and Nazi occupation. Rausing's conversations with the local people touched on many subjects: the economic privations of post-Soviet existence, the bewildering influx of western products, and the Swedish background of many of them. In Everything Is Wonderful Rausing reflects on history, political repression, and the story of the minority Swedes in the area. She lived and worked amongst the villagers, witnessing their transition from repression to freedom, and from Soviet neglect to post-Soviet austerity.

Praise For Everything Is Wonderful: Memories of a Collective Farm in Estonia…
"Sigrid Rausing's memoir is a charming, unsettling and unusually intimate glimpse into the life of an Estonian village in transition."Anne Applebaum

"A deliciously enjoyable, fascinating and important book that works as scholarship, diary and chronicleit's a historical study of place, memory and tragedy that reveals the hellish experience of Estonia under Nazis and Soviets, it's a unique anthropological examination of a peculiar now vanished civilisation, the collective farm, and it's also a delightfully quirky diary of a Swedish PhD in the early 1990s that chronicles extraordinary lives of ordinary Estonian people with a playful curiosity."Simon Sebag Montefiore

"Sigrid Rausing's lyrical and evocative description of a former collective farm on a remote peninsula in Estonia portrays the transition from Soviet rule to independence. A startling and beautiful book."Lady Antonia Fraser

"In this disorientating memoir, Sigrid Rausing describes life as an anthropologist in post-Soviet Estonia. The narrator, her subjects, and their country are caught between worlds, unsure where they are going, why they are going there or indeed if they are going anywhere at all. It is lovely, gentle and very human."Oliver Bullough

"Intimate, lyrical and evocativeSigrid Rausing's memoir captures a forgotten world, on the cusp between Soviet occupation and a Western future. A finely drawn literary account of people and places, encompassing history, geography, culture and biography."Edward Lucas

A delicate, precise, and richly informative memoir of a forgotten Europe and a vanished world."Timothy Garton Ash

"In 1993-94, Sigrid Rausing spent a year doing anthropological fieldwork in a former collective farm in post-Soviet Estonia. Twenty years on, that work, and the diaries she kept at the time, and later during a return visit in 2003, come together in this remarkable and instructive book, where continually interesting individual characters are given a broader historical and cultural context. Dr. Rausing combines a keen eye for the telling detail with strikingat times lyricaldescriptions of rural lives and landscapes, and in documenting the lost futures" of those working there, reminds us again of the dreadful human cost of totalitarianism."Robert Conquest

Beautiful, gentle and haunting. Every single edge in it seems to be frayed. And what a triumph it is to have allowed that frayedness to survive the whole process of writing it down. It is alive like an old frayed tapestry found in old trunk. Perhaps archaically beautiful is the phrase I am groping after. Like a sort of dance of the blind, slow and gentle, feeling its way, the shoes moving carefully over the floor."Adam Nicolson

An intimate look at the devastations of communism in Estonia. . . . [a] sensuous, character-rich portrait of the denuded landscape, ruined economy, and erratic, alcoholic personalities she encountered as a dreamy, lonely observer and teacher. . . . [Rausing] unearths fascinating history of this remote area, annexed and depleted by Russia, then Germany, then the Soviet Union. . . . A mellifluous portrait of a country slowly and painfully pulling itself into the European world."Kirkus Reviews

EvocativeWith a keen, level eye, Rausing reconstructs the blasted landscape of abandoned farmhouses and watchtowers, the truculent personalities of the locals, including her louche drunken landlord Toivo, and the terrible scars of history."Publishers Weekly
Grove Press, 9780802122179, 219pp.
Publication Date: March 18, 2014
About the Author
Sigrid Rausing is a writer, philanthropist, anthropologist, and publisher. She is the founder of the Sigrid Rausing Trust, and publisher of Granta magazine and Granta Books. She is the author of "History, Memory, and Identity in Post-Soviet Estonia: The End of a Collective Farm" (Oxford Studies in Social and Cultural Anthropology). "Everything Is Wonderful" is her first trade book.
or
Not Currently Available for Direct Purchase