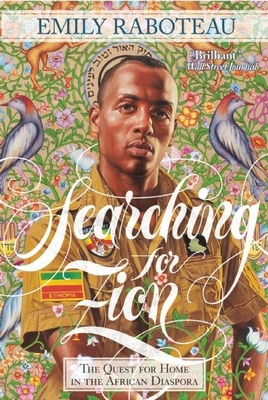 Searching for Zion
Paperback

* Individual store prices may vary.
Other Editions of This Title:
Hardcover (1/1/2013)
MP3 CD (10/1/2014)
Compact Disc (1/22/2013)
MP3 CD (1/14/2014)
Compact Disc (1/14/2014)
MP3 CD (1/22/2013)
MP3 CD (1/1/2013)
Compact Disc (1/1/2013)
Description
"A brilliant illustration of the ways in which race is an artificial construct that, like beauty, is often a matter of perspective."--The Wall Street Journal "Frank and expansive . . . Each impressionistic, deeply personal vignette is a building block, detailing Raboteau's] far-flung search for 'home'--a 'promised land' that's as brick-and-mortar tangible as it is spiritually confirming."--Chicago Tribune A decade in the making, Emily Raboteau's Searching for Zion takes readers around the world on an unexpected adventure of faith. Both one woman's quest for a place to call "home" and an investigation into a people's search for the Promised Land, this landmark work of creative nonfiction is a trenchant inquiry into contemporary and historical ethnic displacement. At twenty-three, Raboteau traveled to Israel to visit her childhood best friend. While her friend appeared to have found a place to belong, Raboteau couldn't relate. As a biracial woman from a country still divided along racial lines, she'd never felt at home in America, unable to find her "Zion," which she defined as a metaphor for freedom. But in Israel, the Jewish Zion, Raboteau was surprised to discover black Jews. Inspired by their exodus, Raboteau sought out other black communities that had left home in search of a Promised Land. Her question for them is the same she asks herself: have you found the home you're looking for? On this ten-year journey back in time and across the globe, Raboteau visits Jamaica, Ethiopia, Ghana, and the American South to explore the complex and contradictory perspectives of Black Zionists. She talks to Rastafarians, African Hebrew Israelites, Evangelicals and Ethiopian Jews, and Katrina transplants from her own family, overturning our ideas of place and patriotism, and displacement and dispossession, in a disarmingly honest and refreshingly brave take on the pull of the story of Exodus.

Grove Press, 9780802122278, 305pp.
Publication Date: February 11, 2014
About the Author
Emily Raboteau is the author of the critically acclaimed novel, The Professor's Daughter. Her fiction and essays have appeared in Best American Short Stories, Best African American Fiction, The Guardian, Oxford American, Tin House and elsewhere. Recipient of numerous awards including a Pushcart Prize and a Literature Fellowship from the National Endowment for the Arts, Raboteau also teaches creative writing at The City College of New York in Harlem.