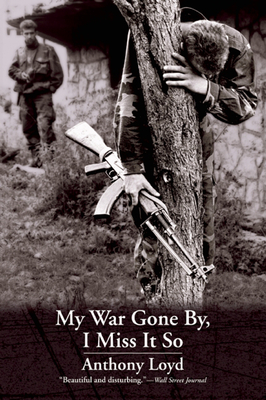 My War Gone By, I Miss It So
Paperback

* Individual store prices may vary.
Other Editions of This Title:
Digital Audiobook (11/24/2011)
Paperback (2/1/2001)
Description
Born to a distinguished family steeped in military tradition, raised on stories of wartime and ancestral heroes, Anthony Loyd longed to experience war from the front lines--so he left England at the age of twenty-six to document the conflict in Bosnia. For the following three years he witnessed the killings of one of the most callous and chaotic clashes on European soil, in the midst of a lethal struggle among the Serbs, Croatians, and Bosnian Muslims. Addicted to the adrenaline of armed combat, he returned home to wage a longstanding personal battle against substance abuse. These harrowing accounts from the trenches show humanity at its worst and best, through daily tragedies in city streets and mountain villages during Yugoslavia's brutal dissolution. Shocking, violent, yet lyrical and ultimately redemptive, this book is a breathtaking feat of reportage, and an uncompromising look at the terrifyingly seductive power of war.
Praise For My War Gone By, I Miss It So…
"Battlefield reportage does not get more up close, gruesome, and personal. . . . The fear and confusion of battle are so vivid that in places, they rise like acrid smoke from the page." New York Times

"Loyd's strongest writing is in his descriptions of carnageof the sound and smell of shellfire; of the sexual release of blasting away with an automatic machine gun . . . This is pure war reporting, free from the usual journalistic constraints that often give a false significance to suffering. And Loyd waxes eloquent on the backblast of his war time, a heroin addiction that begins before his arrival and becomes the only way he can survive his breaks from the fighting." Salon

"Both beautiful and disturbing." Wall Street Journal

"First-rate war correspondence . . . [in] the great tradition of Hemingway, Caputo, and Michael Herr." Boston Globe

"My War Gone By, I Miss It So moves at the pace of a thriller. Why bother reading war fiction when you can read such intense reporting?" LA Weekly

"[Lloyd] has written an account of its horrors that will wipe out any thoughts you might have had that we have reached the limit of the worst human nature has to offer. The monstrosities he describes are beyond belief. But the book is also compelling for what it tells us about fear." National Geographic Adventure Magazine

"A testament to his honor and courage. And while it would be impossible for one man to tell the whole story, his book shines with small truths and larger, philosophical ones about life and war." New York Post

"Brave and admirable . . . with vivid descriptions of shelling, human suffering, and new depths of fear." Christian Science Monitor

"Loyd has used a zoom lens to put his readers nose to nose with the surreal and horrifying brutalities [in Bosnia] . . . this book is so powerful that, at times, you will have to put it down. But not for long." Denver Post

"A raw and ragged book for a war that officially announced to the world that what's old is new in conflict: war fought between neighbors divided by religion or ethnicity, and fought hand to hand. . . . And his writing from the middle of the action is visceral, rife with urges that chaos and anonymity spur. . . . This may be the book these wars neededan angry, confused howl against the obliteration of all we consider humane. Loyd has taken a step toward resuscitating the somnolent language of conflict-at-a-distance, bringing a war often seen through a haze of euphemism into sharp and jarring focus. This great horror in a century of horrors finally has its jeremiad." Philadelphia Inquirer

"Loyd has a matter-of-fact writing style that augments rather than softens the carnage he describes. At the same time he can go ballistic on certain subjects: the incompetent impotence of the U.N., for example, or the apathy of the Western public. . . . He describes both wars from a ground-level view, making them more understandable while maintaining their chaotic feel: a difficult, yet appreciated balancing act. He humanizes how inhuman war can be. . . . Loyd has gone to hell and back and is telling us what he's seen in sometimes beautiful, always pungent prose." Seattle Times

"Writing with a combat veteran's dark knowledge and a seasoned war correspondent's edgy, hesitant desire to cling to some sort of confidence in humanity, Loyd delivers a searing firsthand account of the war in Bosnia that successfully blends autobiographical confession and war reportage. . . . Not like any other book on the Yugoslav war, his gripping, viscerally subjective chronicle puts a human face on the tragedy as it mourns the strangled soul of multiethnic Bosnia." Publishers Weekly

"An extraordinary evocation of the war in Bosnia, that is also a painful personal story. . . . He sketches an almost unbearable picture of the carnage . . . [no other book] takes the reader deeper into the domestic heart of the conflict as this idiosyncratic, unsparingly graphic, refreshingly self-critical, and beautifully written memoir." Kirkus Reviews (starred review)

"The stark, often lyrical quality of his prose accentuates the surreal atmosphere of wartime . . . Loyd's account blends personal revelation with biting commentary on diplomacy and war. By turns horrifying, contemplative, and savagely funny, this memoir captures the peculiar ferocity ethnic and religious civil strife. . . . This unforgettable work ranks with the great modern accounts of war and should be in every library." Library Journal

"Loyd's rebellious irritation and visceral response to the atrocities around him give uncommon immediacy to this thoughtful, unpretentious memoir of the war in Bosnia." San Francisco Chronicle

"A strangely confessional chronicle of a man who looks into devastated regions and sees the rubble of himself. It is a simultaneously cold and impassioned chronicle of a love affair with war, a disturbing and sometimes embarrassing mix of self-loathing and self-justification written with acrid candor . . . he invokes the ritual poetry of violence: the stunning transformation of live flesh into mist and offal, the voraciousness of fear, the classic juxtaposition of innocence and gore." Newsday

"Loyd steadfastly writes from [an] unromantic point of view, refusing to give lip service to the vacuous, sound-bite moralisms and historical nuggets he sees most journalists resorting to in Bosnia . . . he tells the unvarnished truth, no mean feat in such a diabolically convoluted and tragic conflict." Chicago Tribune

"Riveting, first-hand, intensely personal accounts of horror . . . by turns looking at the convexity of war in Bosnia and the concavity of the war going on inside the author, as he wrestles with questions as mundane as addiction and as exalted as theology." San Jose Mercury News

"A masterpiece of gore by a war correspondent whose words are worth a thousand pictures . . . [Loyd is] a writer of astonishing talent, with a sense of humor as dark as the inside of a Kalashnikov's barrel." San Diego Union Tribune

"Not your father's front-line reporting. This may just be the flat-on-your-belly grittiest coverage to come out of those tormented killing zones thus far." Dallas Morning News

"Lose yourself in Loyd's surreal world . . . then return to your own reality. What a trip. What a wild, wrenching ride you will give yourself. . . . The fear he feels you feel. The bloodied bodies he sees you see. The courage he musters to save the life of a child you cheer. . . . My War Gone By, I Miss It So will long be considered a gem of wartime journalism." Albuquerque Journal

"Exceptionally well written and a devastating reminder that there are still places where the particular hell of war is the everyday norm." Milwaukee Journal Sentinel

"Surreal and chilling . . . a fascinating look at war from a front-row seat . . . he succeeds in his most impossible of missions: to explain the inexplicable." Denver Rocky Mountain News

"A dazzling, hallucinogenic, harrowing and utterly riveting book. . . . Loyd manages to get on the inside and look out, and so provides a perspective on hatred, cruelty and human depravity that is sobering and terrifying." Hartford Courant

"Gruesome, gritty . . . a compelling book, engaging and stylistically both elegant and accessible . . . the descriptive detail is stunningly realized, and the anecdotes are often shrewd and revealing . . . his keen susceptibility to risk, pain and fear." Tucson Weekly

"A truly exceptional book, one of those rare moments in journalistic writing when you can sit back and realize that you are in the presence of somebody willing to take the supreme risk for a writer, of extending their inner self. . . . I read his story of war and addiction (to conflict and to heroin) with a sense of gratitude for the honesty and courage on every page. . . . Until I read Antony Loyd's book I had never quite understood the pull or power of that Balkan experience." The Independent (UK)

"There are those who seek out the world's hotspots and combat zones, to experience and to report where the rest of us mere mortals would fear to tread. Photographer Anthony Lloyd captures this perplexing obsession in the brilliant My War Gone By, I Miss It So." Irish Times
Grove Press, 9780802122322, 320pp.
Publication Date: April 22, 2014
About the Author
Anthony Loyd is a British foreign correspondent who has reported from numerous conflict zones including the Balkans, Afghanistan, Syria, Libya, Iraq and Chechnya. A former infantry officer, he left the British army after the First Gulf War and went to live in Bosnia. My War Gone By, I Miss It So is his memoir of that conflict.