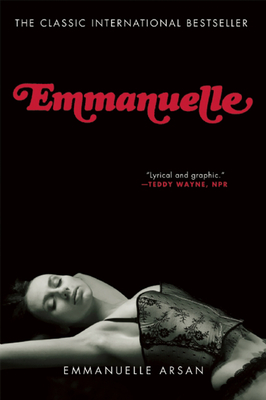 Emmanuelle
Paperback

* Individual store prices may vary.
Other Editions of This Title:
Paperback (5/5/1994)
Description
This classic book of erotica is, alongside Story of O, the most famous French underground novel of the late twentieth century and a work of seductive literary merit. It begins with nineteen-year-old Emmanuelle's flight from London to join her husband in Bangkok. On the airplane, she is seduced by the passenger seated next to her. By the time they land, she has indulged her irrepressible and insatiable sexual appetite, embarking on an odyssey of hedonistic sensual discovery that takes her from the arms of her husband to intimate encounters with the wives of his business associates, to further explorations wherein the philosophical and aesthetic facets of eroticism are expounded--and enacted--to the fullest degree. Intoxicating and intelligent, Emmanuelle, which has sold hundreds of thousands of copies since its initial clandestine publication in France, follows one woman's liberation from unconscious to intensely conscious sexuality. It is as pertinent today as it was four decades ago.

Praise For Emmanuelle…
Praise for Emmanuelle:

"Lyrical and graphic . . . But it's not all salacious play-by-play. The sex scenes are interspersed with abstract musings about the nature of sex. One of the central ideas, which I will now clinically paraphrase to conform to standards of decency, is this: The definition of the erotic is arousal, not climax . . . the book's argument reverberates beyond the erotic. The writing I most enjoy now delights in the moment's contours and textures, not surprising plot twists. The best work seduces the reader through nuanced details and observations, and does away with italics and exclamation points. It takes pleasure in the ambiguous interstices of life while dismissing its flagrant resolutions. In short, it arouses." Teddy Wayne, NPR

"This new edition reminds us how this revolutionary epic had an impact on the sexual liberation of women." Le Parisien Magazine

"Hedonistic, joyful and much more fresh than Fifty Shades of Grey." Marianne

"Emmanuelle is not just sex; it is an eroticism that is vintage, oneiric, utopian, and tender, an optimistic and radiant eroticism." lepoint.fr

"An unrestrained erotic novel, replete with details of the author's sexual experiences and erotic philosophy. Emmanuelle Arsan has launched an all-out one-woman crusade to liberate mankind from the sexual taboos that have woven themselves into our moral nature and end up by ruling us through unjust laws." Panorama (Italy)

"Emmanuelle writes nearly as well as the Divine Marquis [de Sade], and shows the same penchant for philosophy." Le Nouvel Observateur

"Emmanuelle's eroticism is not pathological, unlike the eroticism of revolt. It is a crucial part of the satisfaction of the individual, which feels threatened by nothing, which unfolds in harmony with the world: an eroticism of perfect accord." Le Magazine Littéraire
Grove Press, 9780802122353, 249pp.
Publication Date: March 11, 2014
About the Author
Emmanuelle Arsan is the pseudonym of Marayat and Louis Jacques Rollet-Andriane. Emmanuelle was initially revealed to be written by Marayat, in order to conceal the identity of her husband, a French diplomat stationed in Thailand. Several more novels were published under the Emmanuelle Arsan moniker, including Emmanuelle II. Lowell Bair (translator) translated Madame Bovary, The Count of Monte Cristo, The Hunchback of Notre Dame, and The Phantom of the Opera, among many other novels.