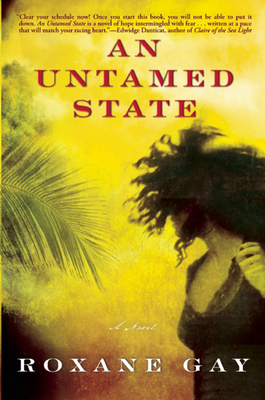 An Untamed State (Paperback)
Grove Press, Black Cat, 9780802122513, 370pp.
Publication Date: May 6, 2014
Other Editions of This Title:
Compact Disc (9/9/2014)
MP3 CD (9/1/2014)
* Individual store prices may vary.
Description
"Once you start this book, you will not be able to put it down. An Untamed State is a novel of hope intermingled with fear, a book about possibilities mixed with horror and despair. It is written at a pace that will match your racing heart, and while you find yourself shocked, amazed, devastated, you also dare to hope for the best, for all involved."--Edwidge Danticat, author of Breath, Eyes, Memory and The Dew Breaker Roxane Gay is a powerful new literary voice whose short stories and essays have already earned her an enthusiastic audience. In An Untamed State, she delivers an assured debut about a woman kidnapped for ransom, her captivity as her father refuses to pay and her husband fights for her release over thirteen days, and her struggle to come to terms with the ordeal in its aftermath. Mireille Duval Jameson is living a fairy tale. The strong-willed youngest daughter of one of Haiti's richest sons, she has an adoring husband, a precocious infant son, by all appearances a perfect life. The fairy tale ends one day when Mireille is kidnapped in broad daylight by a gang of heavily armed men, in front of her father's Port au Prince estate. Held captive by a man who calls himself The Commander, Mireille waits for her father to pay her ransom. As it becomes clear her father intends to resist the kidnappers, Mireille must endure the torments of a man who resents everything she represents. An Untamed State is a novel of privilege in the face of crushing poverty, and of the lawless anger that corrupt governments produce. It is the story of a willful woman attempting to find her way back to the person she once was, and of how redemption is found in the most unexpected of places. An Untamed State establishes Roxane Gay as a writer of prodigious, arresting talent. "From the astonishing first line to the final scene, An Untamed State is magical and dangerous. I could not put it down. Pay attention to Roxane Gay; she's here to stay."--Tayari Jones, author of Silver Sparrow and Leaving Atlanta " Haiti's] better scribes, among them Edwidge Danticat, Franketienne, Madison Smartt Bell, Lyonel Trouillot, and Marie Vieux Chavet, have produced some of the best literature in the world. . . . Add to their ranks Roxane Gay, a bright and shining star."--Kyle Minor, author of In the Devil's Territory, on Ayiti
About the Author
Roxane Gay's writing has appeared in Best American Short Stories 2012, Best Sex Writing 2012, Oxford American, American Short Fiction, Virginia Quarterly Review, NOON, The New York Times Book Review, The Rumpus, Salon, The Wall Street Journal's Speakeasy culture blog, and many others including her Tumblr, roxanegay.tumblr.com. She is the co-editor of PANK and essays editor for The Rumpus. She teaches writing at Eastern Illinois University. She tweets at @rgay.
Praise For An Untamed State…
Advance Praise for An Untamed State:

Clear your schedule now! Once you start this book, you will not be able to put it down. An Untamed State is a novel of hope intermingled with fear. . . . It is written at a pace that will match your racing heart."Edwidge Danticat, author of Claire of the Sea Light

An Untamed State is breathless, artful, disturbing and original. I won't ever forget it."Meg Wolitzer, author of The Interestings

Gay brilliantly writes of the story's external events while skillfully capturing Mireille's internal anguish. Not since Charlotte Perkins Gilman's The Yellow Wallpaper has an author so effectively captured the descent into mental instability."Library Journal (starred review)

An Untamed State is the kind of book you have to keep putting down because you can't believe how good it is. Awesome, powerful, impossible to ignore, Roxane Gay is a literary force of nature. An Untamed State arrives like a hurricane."Mat Johnson, author of Pym

An Untamed State is a harrowing, suspenseful novel about the connections between sexual violence and political rage, narrated in a voice at once traumatized and eerily controlled. Roxane Gay is a remarkable writer, an astute observer of Haitian society and a deeply sympathetic, unflinching chronicler of the compromises people make in order to survive under the most extreme conditions."Tom Perrotta, author of Little Children and Nine Inches

From the astonishing first line to the final scene, An Untamed State is magical and dangerous. I could not put it down. Pay attention to Roxane Gay; she's here to stay."Tayari Jones, author of Silver Sparrow and Leaving Atlanta

I am in awe of [Roxane Gay's] talent, depth, heart and perfect writing structure. . . . . There were moments while reading that I had to put the book down and stalk around the room, muttering to myself about man's inhumanity to (wo)man. . . . It has been a very long time since I have felt this way about a book."Cindy Heidemann, PGW and Perseus Books Group

This is a book for the ages. It is beautiful and incredibly brutal and very real. . . . I thought of Emma Donahue's Room . . . and really, Lovely Bones is also an apt comp as it was a groundbreaking and beautiful book about a terrible subject. What makes An Untamed State stand out from the pack though is Roxane Gay."Leslie Jobson, Publishers Group West/Perseus Books Group