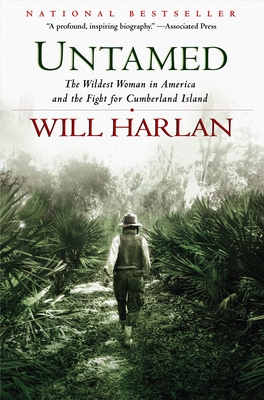 Untamed (Hardcover)
The Wildest Woman in America and the Fight for Cumberland Island
Grove Press, 9780802122582, 307pp.
Publication Date: May 6, 2014
Other Editions of This Title:
Paperback (3/3/2015)
* Individual store prices may vary.
Description
Carol Ruckdeschel is the wildest woman in America. She wrestles alligators, eats roadkill, rides horses bareback, and lives in a ramshackle cabin that she built by hand in an island wilderness. A combination of Henry David Thoreau and Jane Goodall, Carol is a self-taught scientist who has become a tireless defender of sea turtles on Cumberland Island, a national park off the coast of Georgia. Cumberland, the country's largest and most biologically diverse barrier island, is celebrated for its windswept dunes and feral horses. Steel magnate Thomas Carnegie once owned much of the island, and in recent years, Carnegie heirs and the National Park Service have clashed with Carol over the island's future. What happens when a dirt-poor naturalist with only a high school diploma becomes an outspoken advocate on a celebrated but divisive island? Untamed is the story of an American original standing her ground and fighting for what she believes in, no matter the cost.
About the Author
Will Harlan is the editor-in-chief of "Blue Ridge Outdoors," the country's largest regional outdoor magazine. A top trail runner and a long-time journalist, his work has appeared in "The Wall Street Journal, National Geographic Adventure, " and elsewhere.
Praise For Untamed: The Wildest Woman in America and the Fight for Cumberland Island…
Advance Praise for Untamed

Carol Ruckdeschel isn't quite your mother's idea of a role model, but she is my idea of an inspiring woman. Her gifts are many, her commitment resolute, her contribution world-class. And boyas you'll readhas she had fun. What a story! It's as beautiful as the island she loves."Carl Safina, author of The View from Lazy Point and A Sea in Flames

Now this is an adventure story. Untamed is the true-life saga of a brilliant, beautiful woman who became her own tall tale. Just to survive, Carol Ruckdeschel had to become as elusive and mysterious as the creatures she first set off into the wilderness to study. Hunted by her enemies, stalked by an ex-lover, living off the land, Ruckdeschel found herself locked in a battle of wits to stay alive and pursue her scientific passion. This is no Sad Girl on a One-Year Quest for Love and Backbone; Carol Ruckdeschel is on a mission, and she's smart and lethal enough to deal with anyone who tries to stop her."Christopher McDougall, author of Born to Run

A true action hero, Carol Ruckdeschel is using her powers of insight, persuasion, and personal commitment to protect a wilderness island off the coast of Georgia. She's not just bemoaning the tragic decline of the natural world that sustains all life on earth, humans and turtles included. She is also putting her own life on the line to save what's left. Thanks to Carol, there is hope for wild creatures who have preceded humankind by hundreds of millions of yearsand hope for an enduring future for ourselves as well."Sylvia Earle, record-setting oceanographer, National Geographic explorer-in-residence, 2009 TED Prize winner, Mission Blue founder, Time's first Hero of the Planet, and author of The World Is Blue

Wild country produces wild people, who sometimes are just what's needed to keep that wild cycle going. This is a memorable portrait."Bill McKibben, author of The End of Nature, winner of the 2013 Gandhi Peace Award, founder of 350.org

Open this book to the brine of salt marsh, the musk of turtles and sea breezes, and the astonishing story of Carol Ruckdeschel. From the first line I was captivated by this biography of a fierce and enigmatic passion for wildness, mesmerizing and beautiful. May we all learn something of love from it."Janisse Ray, author of Ecology of a Cracker Childhood

Untamed is not only a page-turner but also a show-stopper. Its engaging protagonist, Carol Ruckdeschela combination of Jane Goodall and Annie Oakleyis kaleidoscopic in her paradoxes: brutal and benevolent, savage and sympathetic, cutthroat and compassionate.' Harlan has written an environmental classic that belongs on the shelf alongside Carson, Leopold, Muir, and Thoreau. This crafty, adventurous biography reads like a good novel and leaves readers in tears. It's a tale of an American hero told by an American hero, and the collaboration is luminous."Thomas Rain Crowe, author of Zoro's Field: My Life in the Appalachian Woods
or
Not Currently Available for Direct Purchase