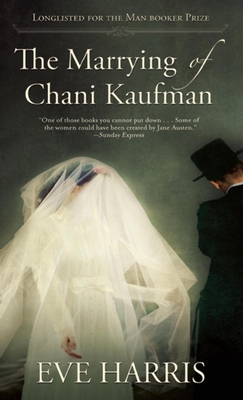 The Marrying of Chani Kaufman
Paperback

* Individual store prices may vary.
Other Editions of This Title:
Digital Audiobook (10/2/2013)
Description
Perhaps the most surprising and intriguing novel on the Man Booker Prize longlist, The Marrying of Chani Kaufman is a debut originally published by a small independent Scottish press that is already garnering significant attention worldwide. London, 2008. Chani Kaufman is a nineteen-year-old woman, betrothed to Baruch Levy, a young man whom she has seen only four times before their wedding day. The novel begins with Chani standing "like a pillar of salt," wearing a wedding dress that has been passed between members of her family and has the yellowed underarms and rows of alteration stitches to prove it. All of the cups of cold coffee and small talk with men referred to Chani's parents have led up to this moment. But the happiness Chani and Baruch feel is more than counterbalanced by their anxiety: about the realities of married life; about whether they will be able to have fewer children than Chani's mother, who has eight daughters; and, most frighteningly, about the unknown, unspeakable secrets of the wedding night. As the book moves back to tell the story of Chani and Baruch's unusual courtship, it throws into focus a very different couple: Rabbi Chaim Zilberman and his wife, Rebbetzin Rivka Zilberman. As Chani and Baruch prepare for a shared lifetime, Chaim and Rivka struggle to keep their marriage alive--and all four, together with the rest of the community, face difficult decisions about the place of faith and family life in the contemporary world.
Praise For The Marrying of Chani Kaufman…
A restrictive, claustrophobic world emerges from the pages of this astonishingly impressive first novel. Yet, there is tenderness and compassion too which irradiates the struggles of the various characters as they negotiate their way through the demands of religion, duty and personal desire. Terrific."Elizabeth Buchan, bestselling author of Consider the Lily

"Harris writes of this closed world with knowledge and understanding, and highly observant, slightly acidic humour. Deservedly longlisted for the Man Booker."The Times (UK)

Engages from the very first page, slipping the reader deep into the orthodox Jewish community, beyond the rituals and prayers, the constraints and the hair-covering wigs, into the secrets and emotions beneath, illuminating the story of Chani's journey from schoolgirl to bride and revealing the lives of others around her besides. This novel is beautifully done and highly recommended."Daily Mail

"One of those books you cannot put down . . . Some of the women (the story is mostly told from a female perspective), could have been created by Jane Austen or Mrs Gaskell. . . . Eve Harris looks but does not judge. . . . an optimistic, compassionate story."Sunday Express

Compassionate and witty . . . The Marrying Of Chani Kaufman is about more than an innocent girl in a rigorously controlled community hoping for a soul mate while being paraded before husband material (Jane Austen has done that already). At the heart of the book is the theme of identity and the glue that fastens us to communities, be they religious, racial or social. . . . [It has] the emotional and thematic complexity needed to raise the story to a Booker contender."Independent

The serious subject at its core the semi-arranged marriage of two young Haredi Jews is belied by the warmth of the writing. There are demons here, but they do not terrify. . . . Humour abounds, but so do pathos and anger. . . . Harris's eye for suburban social mores is wickedly acute, as is her evident relish in describing both the sensual life and its absence. . . . Has the potential to be that rare thing a crowd-pleaser about Orthodox Judaism."Guardian

"Harris evokes the community's insular nature, she also suggests the sense of comfort and belonging that it confers, offering a sympathetic window on a way of life little glimpsed in contemporary fiction."Financial Times

"Confidently done, a romantic comedy at ease with its own lightness. Its setting, northwest London's ultra-orthodox Jewish community, is small and devoutly separate, and reading about such enclosure is pleasantly consuming. . . . Harris is humorous and clement throughout with her characters."Sunday Times

Depict[s] the claustrophobic anxieties of a young heroine locked within a powerful family hinterland. . . Readers seeking genuine Jewish characters have no need to search for the latent beneath the manifest here. . . . [The Marrying of Chani Kaufman] has received the British literary establishment's seal of approval. It deserves it."Jewish Chronicle

"Judaism may be the setting but Eve touches on universal themes. It's about being true to ourselves when even our closest friends seem at odds with our chosen lifestyle. It's about forging a set of values when everything around us, locally and globally, seems to encourage the antithesis. It's about being human. It's about being alive and I adored it."The Bookbag

[The Marrying of Chani Kafuman] is set in the ultra-Orthodox neighborhoods of Hendon and Golders Green . . . The chapters shift from Chani's point of view to that of her equally anxious betrothed, Baruch, as well as his best friend who is secretly dating a shiksa, and his mother Rivka, the rabbi's wife who is supposed to prepare Chani for marriage but is herself grappling with the religious way of life."Haaretz

"Harris is tender and sympathetic as she reveals the intricacies of acceptable behaviour and anathema in this group of Orthodox families. This lively and thought provoking novel makes a significant contribution to the contemporary literary scene."The Bay

"A lovely, very funny and touching account of a marriage in orthodox Jewry."Spectator

A wonderful novel, which grips you from the first sentence and holds you until the last. Like Zadie Smith's NW, this book is set in contemporary North London, but it has much more in common with the work of Jane Austen. The main preoccupation of the novel is marriage."WeLoveThisBook.com
Grove Press, Black Cat, 9780802122735, 370pp.
Publication Date: April 1, 2014
About the Author
Eve Harris was born to Israeli-Polish parents in West London. She taught for twelve years at schools in London, as well as in Tel Aviv. The Marrying of Chani Kaufman was inspired by her final year of teaching at an all girls' ultra-Orthodox Jewish school in North West London.