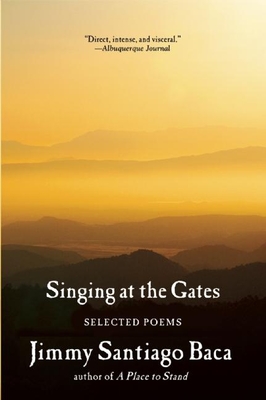 Singing at the Gates (Paperback)
Selected Poems
Grove Press, 9780802122933, 288pp.
Publication Date: November 17, 2015
Other Editions of This Title:
Hardcover (1/7/2014)
* Individual store prices may vary.
Description
Award-winning writer Jimmy Santiago Baca is acclaimed for his talent in weaving personal and political threads to create pertinent and poignant narratives. He addresses universal issues with vigor and passion as well as emotional grace and vivid sensory detail, establishing him as a vital voice in American poetry. Singing at the Gates is a collection of Baca's work that stretches back over four decades. These poems revitalize the national dialogue: raging against war and imprisonment, fighting for prison reform, celebrating family and the bonds of friendship, heightening appreciation for and consciousness of the environment. A career-spanning selection, it includes his early work as a budding poet--written during his years in the penitentiary, where he taught himself to read and write--in addition to poems from his first chapbook and recent pieces meditating on the significance of breaking through adversity and oppression. From outraged to serene, playful to meditative, Baca's voice is robust, searing, sensuous, and tender. This arresting collection displays the breadth and depth of Baca's poetic power--with irreverent charm and disarming freedom of mind and soul. The vital pulse of love abiding in these poems will affirm and reaffirm, for both longtime and newfound readers, his devotion to truth and beauty.