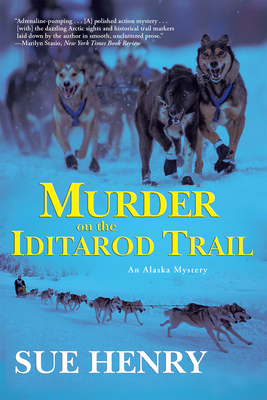 Murder on the Iditarod Trail
Paperback

* Individual store prices may vary.
Description
"Adrenaline-pumping . . . A] polished action mystery . . . with] dazzling Arctic sights and historical trail markers laid down by the author in smooth, uncluttered prose."--Marilyn Stasio, New York Times Book Review Now in Grove Press paperback for the first time, Murder on the Iditarod Trail is a gripping mystery set during Alaska's world-famous Iditarod: a grueling eleven-hundred-mile dogsled race across hazardous Arctic terrain. It is an arduous sport, but not a deadly one. But suddenly the top Iditarod contestants are dying in bizarre ways: first a veteran musher smashes into a tree, then competitors begin turning up dead, with each murder more brutal than the last. State trooper Alex Jensen begins a homicide investigation, determined to track down the killer before more blood stains the pristine Alaskan snow. Meanwhile, Jessie Arnold, Alaska's premier female musher, has a shot at winning for the first time. But as her position in the race improves, so do her chances of being the killer's next target. As the mushers thread their way through the treacherous trails, Jessie and Jensen are drawn deep into the frozen heart of the perilous wild: where nature can kill as easily as a bullet and only the Arctic night can hear your final screams. "Engrossing . . . The howling winds, the snow, the ice, the dancing away from wolves, the crazing fatigue, the welcome heat and food, are almost palpable."--Los Angeles Times Book Review "Excellent . . . well-paced, well-conceived, engrossing . . . moves along like a healthy, well-trained dog team."--Anchorage Times "A book that will give you a feel for how the Iditarod is . . . Sue Henry has a genius for characterization, plot, and setting."--Mystery News

Grove Press, 9780802123398, 246pp.
Publication Date: June 9, 2015
About the Author
Sue Henry's award-winning Alaska mysteries have received the highest praise from readers and critics alike. She has lived in Alaska for almost thirty years, and brings history, Alaskan lore, and the majestic beauty of the vast landscape to her mysteries. Based in Anchorage, she is currently at work on the next book in this series.