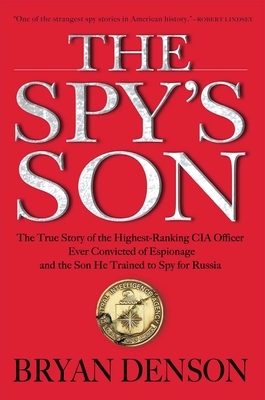 The Spy's Son (Hardcover)
The True Story of the Highest-Ranking CIA Officer Ever Convicted of Espionage and the Son He Trained to Spy for Russia
Atlantic Monthly Press, 9780802123589, 368pp.
Publication Date: May 5, 2015
Other Editions of This Title:
Paperback (5/10/2016)
MP3 CD (5/10/2016)
MP3 CD (8/27/2015)
* Individual store prices may vary.
Description
"A haunting book as fast paced and as exciting as the best spy novel . . . and it's all true." --Robert Lindsey, author of The Falcon and the Snowman Investigative reporter and Pulitzer Prize finalist Bryan Denson tells the riveting story of the Nicholsons--father and son co-conspirators who deceived their country by selling national secrets to Russia. Jim Nicholson was one of the CIA's top veteran case officers. By day, he taught spycraft at the CIA's clandestine training center, The Farm. By night, he was a minivan-driving single father racing home to have dinner with his kids. But Nicholson led a double life. For more than two years, he had met covertly with agents of Russia's foreign intelligence service and turned over troves of classified documents. In 1997, Nicholson became the highest ranking CIA officer ever convicted of espionage. But his duplicity didn't stop there. While behind the bars of a federal prison, the former mole systematically groomed the one person he trusted most to serve as his stand-in: his youngest son, Nathan. When asked to smuggle messages out of prison to Russian contacts, Nathan saw an opportunity to be heroic and to make his father proud.
About the Author
Bryan Denson, an investigative reporter and veteran staff writer for "The Oregonian," is a Pulitzer Prize finalist in journalism for national reporting and for the Robert F. Kennedy Journalism award, and the winner of the George Polk Award, among many other honors. He was a staff writer at five daily newspapers, including "The Houston Post," and he has written for national magazines, including "Maxim," "Reader's Digest," and "Running Times." Denson covered the Nicholson case as it wound through Portland courtrooms, and "The Spy's Son" is the culmination of a five-year investigation.
or
Not Currently Available for Direct Purchase