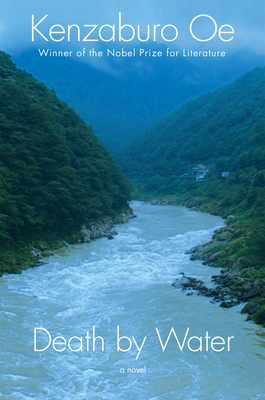 Death by Water (Hardcover)
Grove Press, 9780802124012, 432pp.
Publication Date: October 6, 2015
Other Editions of This Title:
Paperback (10/4/2016)
Compact Disc (11/3/2015)
Pre-Recorded Audio Player (1/1/2016)
MP3 CD (11/3/2015)
* Individual store prices may vary.
Description
Kenzaburo Oe was awarded the Nobel Prize in Literature for creating "an imagined world, where life and myth condense to form a disconcerting picture of the human predicament today." In Death by Water, his recurring protagonist and literary alter-ego returns to his hometown village in search of a red suitcase fabled to hold documents revealing the details of his father's death during WWII: details that will serve as the foundation for his new, and final, novel. Since his youth, renowned novelist Kogito Choko planned to fictionalize his father's fatal drowning in order to fully process the loss. Stricken with guilt and regret over his failure to rescue his father, Choko has long been driven to discover why his father was boating on the river in a torrential storm. Though he remembers overhearing his father and a group of soldiers discussing an insurgent scheme to stage a suicide attack on Emperor Mikado, Choko cannot separate his memories from imagination and his family is hesitant to reveal the entire story. When the contents of the trunk turn out to offer little clarity, Choko abandons the novel in creative despair. Floundering as an artist, he's haunted by fear that he may never write his tour de force. But when he collaborates with an avant-garde theater troupe dramatizing his early novels, Kogito is revitalized by revisiting his formative work and he finds the will to continue investigating his father's demise. Diving into the turbulent depths of legacy and mortality, Death by Water is an exquisite examination of resurfacing national and personal trauma, and the ways that storytelling can mend political, social, and familial rifts.
About the Author
Kenzaburo Oe was born in 1935 in the remote mountain village of Ose on Shikoku, the smallest of Japan's four main islands. Oe is considered one of the most dynamic and revolutionary writers to have emerged in Japan since World War II, and is acknowledged as the first truly modern Japanese writer. Oe is known for his powerful accounts of the atomic bombings of Hiroshima and his struggle to come to terms with a mentally handicapped son. His dark musings on moral failure came to symbolize an alienated generation in postwar Japan. Oe's influences and literary heroes are less Japanese than American and European, ranging from Henry Miller to Jean-Paul Sartre, from Blake to Camus. In 1960, Oe traveled to China where he met Mao Zedong, and the following year he traveled Paris where he met one of his influences, Jean-Paul Sartre. His prolific body of work has won almost every major international honor, including the 1989 Prix Europalia and the 1994 Nobel Prize for Literature. His many translated works include A Personal Matter (1964), Teach Us to Outgrow Our Madness (1969), The Silent Cry (1967), Hiroshima Notes (1965), and Nip the Buds, Shoot the Kids (1958).