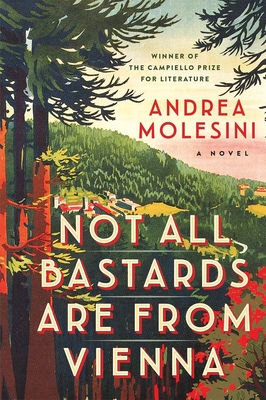 Not All Bastards Are from Vienna (Hardcover)
Grove Press, 9780802124340, 352pp.
Publication Date: February 2, 2016
Other Editions of This Title:
Paperback (2/14/2017)
MP3 CD (5/31/2016)
* Individual store prices may vary.
Description
Andrea Molesini's exquisite debut novel--winner of the prestigious Campiello Prize--portrays the depths of heroism and horror within a Northern Italian village toward the end of the Great War. While a family's villa is requisitioned by enemy troops, they are forced to intimately confront war's injustice as their involvement with its sinister underpinnings grows more and more complex. In the autumn of 1917, Refrontolo--a small community north of Venice--is invaded by Austrian soldiers as the Italian army is pushed to the Piave river. The Spada family owns the largest estate in the area, where orphaned seventeen-year-old Paolo lives with his eccentric grandparents, headstrong aunt, and a loyal staff. With the battlefront nearby, the Spada home become a bastion of resistance, both clashing and cooperating with the military members imposing on their household. When Paolo is recruited to help with a covert operation, his life is put in irrevocable jeopardy. As he bears witness to violence and hostility between enemies, he grows to understand the value of courage, dignity, family bonds, and patriotism during wartime.
About the Author
Andrea Molesini lives in Venice, Italy, where he was born. He teaches Comparative Literature at Padua University. He is a poet, an author of children's stories translated into French, Dutch and Japanese, and a sailor.