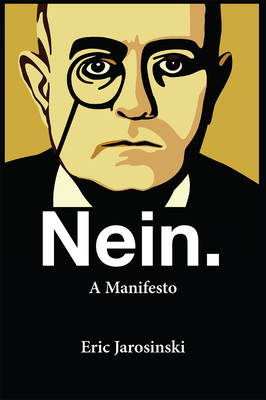 Nein. a Manifesto
Paperback

* Individual store prices may vary.
Description
#FrequentlyAskedQuestions
1. Ontology: what the fuck?
2. Causality: why the fuck?
3. Epistemology: how the why the fuck?
4. Phenomenology: the fuck. Nein. A Manifesto is the brainchild of Eric Jarosinski, the self-described "failed intellectual" behind the hugely popular @NeinQuarterly, a "Compendium of Utopian Negation" that uses the aphoristic potential of Twitter to plumb the existential abyss of modern life--and finds it bottomless. Stridently hopeless and charmingly dour, Nein. A Manifesto is an irreverent philosophical investigation into our most urgent questions. And the least. Inspired by the aphorisms of Nietzsche, Karl Kraus, Walter Benjamin, and Theodor W. Adorno, Jarosinski's short-form style reinvents philosophy for a world doomed to distraction. Nein. A Manifesto will be packaged as an attractive small-format hardcover, with a handful of Jarosinski's aphorisms laid out on each page. Critical thinkers, lovers of language, bibliophiles, manics and depressives alike will be drawn to this compelling, witty, and often hilarious translation of digital into print. Theory into praxis. And tragedy into farce.

Grove Press, Black Cat, 9780802124371, 172pp.
Publication Date: September 15, 2015
About the Author
Eric Jarosinski is a self-declared #FailedIntellectual and expert in modern German literature, culture, and critical theory, as well as the founding editor of Nein. Quarterly. Jarosinski's writing has been featured in numerous publications, including the New Yorker, the Paris Review, and the Wall Street Journal. He is based in New York.