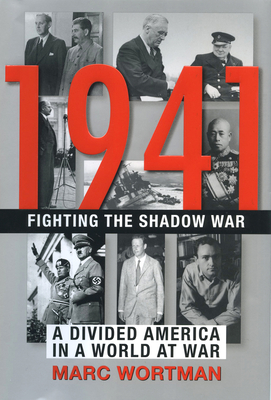 1941
Fighting the Shadow War: A Divided America in a World at War
Hardcover

* Individual store prices may vary.
Other Editions of This Title:
Paperback (4/11/2017)
MP3 CD (9/27/2016)
Description
In 1941: Fighting the Shadow War, A Divided America in a World at War, historian Marc Wortman thrillingly explores the little-known history of America's clandestine involvement in World War II before the attack on Pearl Harbor. Prior to that infamous day, America had long been involved in a shadow war. Winston Churchill, England's beleaguered new Prime Minister, pleaded with Franklin D. Roosevelt for help. FDR concocted ingenious ways to come to his aid, without breaking the Neutrality Acts. Launching Lend-Lease, conducting espionage at home and in South America to root out Nazi sympathizers, and waging undeclared war in the Atlantic, were just some of the tactics with which FDR battled Hitler in the shadows. FDR also had to contend with growing isolationism and anti-Semitism as he tried to influence public opinion. While Americans were sympathetic to those being crushed under Axis power, they were unwilling to enter a foreign war. Wortman tells the story through the eyes of the powerful as well as ordinary citizens. Their stories weave throughout the intricate tapestry of events that unfold during the crucial year of 1941. Combining military and political history, Wortman tells the eye-opening story of how FDR took the country to war.
Atlantic Monthly Press, 9780802125118, 416pp.
Publication Date: April 19, 2016
About the Author
Marc Wortman is an independent historian and award-winning freelance journalist. He is the author of two previous books, "The Millionaires' Unit: The Aristocratic Flyboys Who Fought the Great War and Invented American Air Power" (the inspiration for the prize-winning, feature-length documentary by Humanus Films) and "The Bonfire: The Siege and Burning of Atlanta." He has written for many popular publications, including "Smithsonian, Vanity Fair, " and "Town & Country," and his essays and reviews appear frequently on The Daily Beast. He and his family live in New Haven.