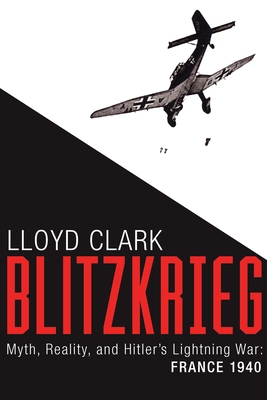 Blitzkrieg (Hardcover)
Myth, Reality, and Hitleras Lightning War: France 1940
Atlantic Monthly Press, 9780802125132, 480pp.
Publication Date: September 20, 2016
Other Editions of This Title:
Compact Disc (9/6/2016)
Paperback (9/19/2017)
* Individual store prices may vary.
Description
In the spring of 1940, the Germans launched a military offensive in France and the Low Countries that married superb intelligence, the latest military thinking, and new technology to achieve in just six weeks what their fathers had failed to achieve in all four years of the First World War. It was a stunning victory, altering the balance of power in Europe in one stroke, and convinced the entire world that the Nazi war machine was unstoppable. But as Lloyd Clark, a leading British military historian and academic, argues in Blitzkrieg, much of our understanding of this victory, and blitzkrieg itself, is based on myth. Far from being a foregone conclusion, Hitler's plan could easily have failed had the Allies been even slightly less inept or the Germans less fortunate. The Germans recognized that success depended not only on surprise, but on avoiding being drawn into a protracted struggle for which they were not prepared. And while speed was essential, 90% of Germany's ground forces were still reliant on horses, bicycles, and their own feet for transportation. There was a real fear of defeat. Their surprise victory proved the apex of their achievement; far from being undefeatable, Clark argues, the France 1940 campaign revealed Germany and its armed forces to be highly vulnerable--a fact dismissed by Hitler as he began to plan for his invasion of the Soviet Union.
About the Author
Lloyd Clark is one of the UK's leading military historians. He is is Professor of Modern War Studies and Contemporary Military History at University of Buckingham, a Fellow of the Royal Historical Society, a member of the British Commission for Military History, and historian to the Airborne Assault Normandy Trust. The author of several books, and he has lectured on military history all over the world and is a frequent guide to battlefields on four continents.