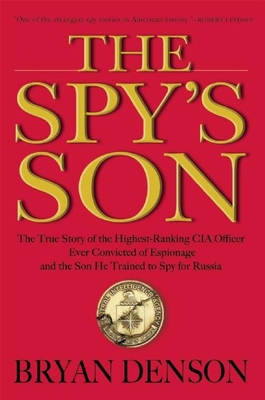 The Spy's Son
The True Story of the Highest-Ranking CIA Officer Ever Convicted of Espionage and the Son He Trained to Spy for Russia
Paperback

* Individual store prices may vary.
Other Editions of This Title:
Compact Disc (12/3/2019)
MP3 CD (5/10/2016)
Description
Jim Nicholson earned the nickname "Batman" early in his spy career with the CIA. A talented case officer with a Rolex watch and hand-tailored suits, Jim's elan and fierce patriotic streak shot him to stardom. He played cat-and-mouse with the KGB during Cold War postings in the Philippines, Thailand, and Japan, and then, when the Soviet Union collapsed, he ran spy operations against a new foe, the Russian SVR. Fourteen years after his first overseas assignment, mired in a messy divorce and custody battle, Jim's superiors called him back to CIA headquarters in Langley, Virginia. By day, he ran Middle East counterterrorism operations. By night, he was just another minivan-driving single dad racing home for dinner with his kids. But Jim had a secret. For two years, in exotic locales across the globe, he had sold his country's deepest secrets to Russia. Jim turned over troves of classified documents and he blew the covers of countless officers--a betrayal that put lives in danger and destroyed careers. The CIA and FBI joined forces to catch him, mounting the only spy-versus-spy criminal investigation ever run under the roof of Langley. In 1997, Jim became the CIA's highest-ranking officer convicted of espionage. Yet his duplicity didn't stop there. While behind the bars of a federal prison in Oregon, the former mole systematically groomed the one person he trusted most to serve as his stand-in: his youngest son, Nathan, a broke college student in his early twenties. Deeply depressed after suffering a serious injury during Army training, Nathan was easy prey for his father. When Jim asked him to courier messages out of prison to his Russian contacts, Nathan saw an opportunity to prove himself and to make his father proud. But trespassing into the global spy word is a risky business and the chain of events that followed irreversibly changed their lives. The Spy's Son goes inside the private meeting rooms of the FBI and CIA, delves into the post-Cold War intrigues between Moscow and Washington, and steps behind the closed doors of a family struggling to stay together. The culmination of a six-year investigation, Bryan Denson has masterfully crafted a high-speed, high-stakes account of this riveting true story of a father's deception and a son's loyalty, and the dire consequences that resulted from betraying both country and kin.
Grove Press, 9780802125194, 384pp.
Publication Date: May 10, 2016
About the Author
Bryan Denson, an investigative reporter and veteran staff writer for The Oregonian, is a Pulitzer Prize finalist in journalism for national reporting and for the Robert F. Kennedy Journalism award, and the winner of the George Polk Award, among many other honors. He was a staff writer at five daily newspapers, including The Houston Post, and he has written for national magazines, including Maxim, Reader's Digest, and Running Times. Denson covered the Nicholson case as it wound through Portland courtrooms, and The Spy's Son is the culmination of a five-year investigation.