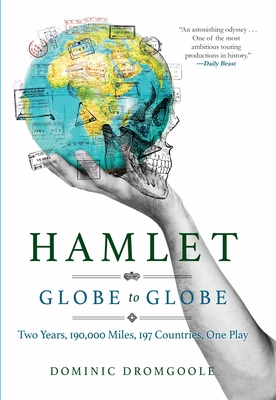 Hamlet Globe to Globe
Two Years, 193,000 Miles, 197 Countries, One Play
Hardcover

* Individual store prices may vary.
Other Editions of This Title:
Paperback (4/17/2018)
Description
Two years, 190,000 miles, 197 countries, one play. For the 450th anniversary of Shakespeare's birth the Globe Theatre in London undertook an unparalleled journey to share Hamlet with the entire world. The tour was the brainchild of Dominic Dromgoole, artistic director of the Globe, and in Hamlet Globe to Globe, Dromgoole takes readers along with him on this wildly ambitious expedition. From performing in sweltering deserts, capital and remote cities, heaving marketplaces and on Pacific islands, and despite food poisoning in Mexico, the threat of ambush in Somaliland, an Ebola epidemic in West Africa, and political upheaval in Ukraine, the Globe's players tirelessly pushed on. They carried their own props, instruments, and costumes throughout the journey, and could construct an entire set in less than two hours. Dromgoole introduces this impressive cast of sturdy souls, recounting the highs and lows of their tour, paying witness to Shakespeare's power to transcend borders and bring the world closer together. Dromgoole also shows us the world through the prism of Shakespeare and why, in its mystery, it resonates so widely--how a sixteenth-century play can touch the lives of men and women in Sudan, citizens of Beijing, and Syrian refugees alike. Through the lens of this epic theatrical journey, Dromgoole gleans new insight into Shakespeare's masterpiece, exploring the play's history, its meaning, and its pleasures, and offering a dramatic and heartfelt testament to Shakespeare's enduring presence on the modern stage.
Grove Press, 9780802125620, 320pp.
Publication Date: April 26, 2017
About the Author
Dominic Dromgoole was the artistic director of Shakespeare's Globe Theatre in London from 2006 to 2016. He is the author of Will & Me: How Shakespeare Took Over My Life and The Full Room: An A-Z of Contemporary Playwriting. He has written for the Guardian, Telegraph, and Sunday Times (UK).