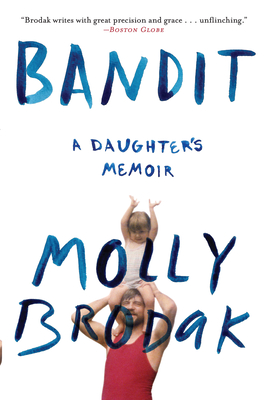 Bandit (Paperback)
A Daughter's Memoir
Grove Press, Black Cat, 9780802125637, 240pp.
Publication Date: October 4, 2016
Other Editions of This Title:
Compact Disc (11/8/2016)
MP3 CD (11/8/2016)
* Individual store prices may vary.
Description
"Raw, poetic and compulsively readable. In Molly Brodak's dazzling memoir, Bandit, her eye is so honest, I found myself nodding like I was agreeing with her, sometimes cringing at what she sustained, and laughing--often. I can't wait to buy a copy for everyone I know."--Kathryn Stockett, author of The Help In the summer of 1994, when Molly Brodak was thirteen years old, her father robbed eleven banks, until the police finally caught up with him while he was sitting at a bar drinking beer, a bag of stolen money plainly visible in the backseat of his parked car. Dubbed the "Mario Brothers Bandit" by the FBI, he served seven years in prison and was released, only to rob another bank several years later and end up back behind bars. In her powerful, provocative debut memoir, Bandit, Molly Brodak recounts her childhood and attempts to make sense of her complicated relationship with her father, a man she only half knew. At some angles he was a normal father: there was a job at the GM factory, a house with a yard, birthday treats for Molly and her sister. But there were darker glimmers, too--another wife he never mentioned to her mother, late-night rages directed at the TV, the red Corvette that suddenly appeared in the driveway, a gift for her sister. Growing up with this larger-than-life, mercurial man, Brodak's strategy was to "get small" and stay out of the way. In Bandit, she unearths and reckons with her childhood memories and the fracturing impact her father had on their family--and in the process attempts to make peace with the parts of herself that she inherited from this bewildering, beguiling man. Written in precise, spellbinding prose, Bandit is a stunning, gut-punching story of family and memory, of the tragic fallibility of the stories we tell ourselves, and of the contours of a father's responsibility for his children.

About the Author
Molly Brodak is from Michigan and currently lives in Georgia. Her poems have recently appeared in Field, The Kenyon Review, Ninth Letter, and Colorado Review. Her first book of poetry, A Little Middle of the Night, won the 2009 Iowa Poetry Prize.
Coverage from NPR