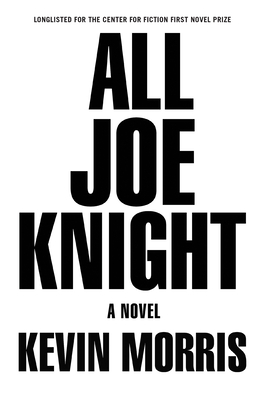 All Joe Knight (Hardcover)
Grove Press, 9780802125781, 368pp.
Publication Date: December 6, 2016
Other Editions of This Title:
Paperback (12/5/2017)
MP3 CD (7/18/2017)
* Individual store prices may vary.
Description
A prominent figure in the entertainment world who has turned to fiction in the last decade, Kevin Morris received wide literary acclaim with his story collection White Man's Problems, praised by David Carr as "remarkable" and Tom Perrotta as "revelatory." Now Morris cements his place as a bold new voice in American literature with his muscular debut novel, All Joe Knight.
1961. Outside Philadelphia, a soon-to-be father runs into a telephone pole while driving drunk; nine months later, his widow dies in a smashed up T-Bird. From the start, the orphaned Joe Knight is a blank slate. Taken in by a kindly aunt in a tough-skinned suburb, Joe finds his family in high school with the Fallcrest basketball team--the kind of team that comes around once in a lifetime. White guys, black guys, speed, height, raw athleticism, every element is perfectly in synch. All these kids want, all they dream of, is to make it to the Palestra, UPenn's cathedral of college basketball.
Fast-forward thirty years. Joe is newly divorced with one kid and certain he is unfit for love. Ever since selling the ad firm he built from the ground up for millions, he's had time on his hands, and now he wiles it away in strip clubs, the only place where he can quiet his mind. But then he hears from Chris Scully, a former Fallcrest teammate who is now District Attorney. It seems the Justice Department is sniffing around the deal that got Joe rich years ago--a deal he cut every member of the basketball team into, except for Scully. As the details about Joe's possible transgression are unreeled, he is forced to face the emptiness inside himself and a secret that has haunted him for decades.
About the Author
Kevin Morris is the author of the acclaimed story collection White Man's Problems and has written for the Wall Street Journal, Los Angeles Times, and Filmmaker Magazine. He produced the highly regarded documentary Hands on a Hardbody and was a co-producer and Tony Award winner for The Book of Mormon. He lives in Los Angeles.