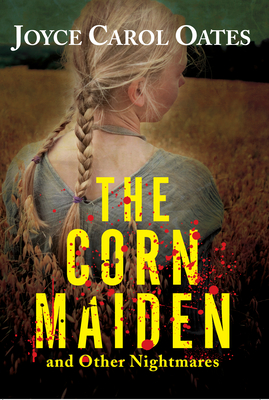 The Corn Maiden and Other Nightmares
Hardcover

* Individual store prices may vary.
Other Editions of This Title:
Digital Audiobook (10/31/2011)
CD-Audio (11/1/2011)
Compact Disc (11/1/2011)
Compact Disc (11/1/2011)
MP3 CD (11/1/2011)
Description
An incomparable master storyteller in all forms, in The Corn Maiden and Other Nightmares Joyce Carol Oates spins six imaginative tales of suspense. "The Corn Maiden" is the gut-wrenching story of Marissa, a beautiful and sweet eleven-year-old girl with hair the color of corn silk. Taken by an older girl from her school who has told two friends in her thrall of the Indian legend of the Corn Maiden, in which a girl is sacrificed to ensure a good crop, Marissa is kept in a secluded basement and convinced that the world has ended. Marissa's seemingly inevitable fate becomes ever more terrifying as the older girl relishes her power, giving the tale unbearable tension with a shocking conclusion. In "Helping Hands," published here for the first time, a lonely woman meets a man in the unlikely clutter of a dingy charity shop and extends friendship. She has no idea what kinds of doors she may be opening. The powerful stories in this extraordinary collection further enhance Joyce Carol Oates's standing as one of the world's greatest writers of suspense.

Praise For The Corn Maiden and Other Nightmares…
From Publishers Weekly:

The seven stories in this stellar collection from the prolific Oates (Give Me Your Heart) may prompt the reader to turn on all the lights or jump at imagined noises. In the excruciating title tale, a novella subtitled A Love Story," an adolescent girl leads two of her friends in the kidnapping of 11-year old Marissa Bantry to enact the ritual sacrifice of the Corn Maiden as performed by the Onigara Indians. Children or childhood traumas play significant roles in Beersheba," in which a man's past catches up to him, and Nobody Knows My Name," in which the birth of a sibling turns nine-year-old Jessica's world upside down. Twins figure in both the eerie Fossil-Figures" and the harrowing Death-Cup" with its sly allusions to Edgar Allan Poe's William Wilson." In A Hole in the Head," a plastic surgeon succumbs to a patient's request for an unusual operation with unexpected results. This volume burnishes Oates's reputation as a master of psychological dread.

From Kirkus Reviews:

Seven nightmarish tales written over a 15-year period.

The first and longest story is the title novella, about Jude Trahern, a precocious and evil eighth-grader who abducts a fellow classmate, Marissa, to enact a ritual human sacrifice. Brilliant, charismatic and severely disturbed, Jude chooses Marissa because of the latter's status as an outsider, both new to the school and set apart by her intellectual slowness. Jude enlists two of her friends in the elaborately planned ceremony, but their enthusiasm begins to wane as things start to get spookier and it becomes clear that Jude is serious about following through on the ritual. Meanwhile, Marissa's mother, Leah, becomes frantic about her missing daughter and starts to believe in the guilt of Mikal Zallman, a part-time employee at the school whom Jude has cleverly implicated. The story ends on a jarring and somewhat surreal note as Leah and Mikal develop a romantic attachment. Throughout this collection Oates is fascinated by the idea of doubling, for example in Death-Cup," in which Lyle King tries to poison his evil twin Alastor with Amanita mushroom soup. Alastor is the evil" brother, successful on the outside but unscrupulous within, and Lyle finds out that ultimately they can never be separated. (It's no coincidence that Lyle is designing a new edition, with hand-sewn pages and letterpress printing," of Poe's William Wilson.") Similarly, in Fossil-Figures," brothers Edgar and Edward Waldman mirror opposing sides of the self, while in the masterful Beersheba" womanizer Brad gets his comeuppance at the hands of Stacy Lynn, who at first comes on to him seductively and then exacts a terrible revenge.

While the shadows of Poe and Hitchcock loom over these tales, it's clear that Oates herself is a master at creeping out her readers.


Praise for Joyce Carol Oates:

"Oates is just a fearless writer ... with her brave heart and her impossibly lush and dead-on imaginative powers." Los Angeles Times

"If the phrase 'woman of letters' existed, Joyce Carol Oates would be, foremost in this country, entitled to it." John Updike

"What keeps us coming back to Oates country is her uncanny gift of making the page a window, with something happening on the other side that we'd swear was life itself." The New York Times Book Review

"Her genius happens to be giant." The Washington Post Book World

"No living American writer echoes the chord of dread plucked by Edgar Allen Poe quite like Joyce Carol Oates." The Plain Dealer (Cleveland)
Mysterious Press, 9780802126023, 365pp.
Publication Date: November 1, 2011
or
Not Currently Available for Direct Purchase