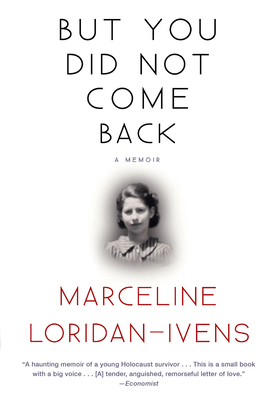 But You Did Not Come Back
A Memoir
Paperback

* Individual store prices may vary.
Other Editions of This Title:
Hardcover (1/5/2016)
MP3 CD (1/10/2017)
Description
"You might come back, because you're young, but I will not come back."--Marceline Loridan-Ivens' father, speaking to her at the Drancy internment camp, April 1944 A runaway international bestseller, But You Did Not Come Back garnered rave reviews and features on hardcover publication, including a New York Times profile on the author. Hailed as an important new addition to the library of books dealing with the Holocaust, it is the profoundly moving and poetic memoir by Marceline Loridan-Ivens, who at the age of fifteen was arrested by the Vichy government's militia, along with her father. At the internment camp of Drancy, France, her father told her that he would not come back, preparing her for the worst. On their arrival at the camps, they were separated--her father sent to Auschwitz, she to the neighboring camp of Birkenau. The three kilometers that separated them were an insurmountable distance, and yet before he died in the camps, he managed to send her a small note, a sign of life that gave Marceline hope to go on. In But You Did Not Come Back, Marceline writes back to her father. The book is a letter to the man she would never know as an adult, to the person whose death overshadowed her whole life. Although her grief never diminished in its intensity, Marceline ultimately found a calling, working on behalf of many disenfranchised groups, both as an activist for Algerian independence and a documentary filmmaker. And now, as France and Europe face growing anti-Semitism, Marceline feels pessimistic about the future. Her testimony is a memorial, a confrontation, and a deeply affecting personal story of a woman whose life was shattered and never totally rebuilt.
Grove Press, 9780802126238, 112pp.
Publication Date: January 10, 2017