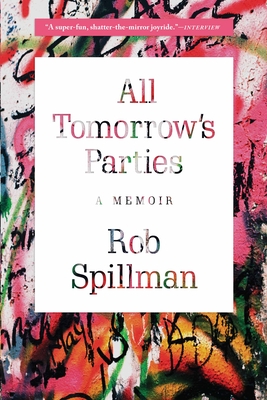 All Tomorrow's Parties (Paperback)
A Memoir
Grove Press, 9780802126269, 352pp.
Publication Date: February 14, 2017
Other Editions of This Title:
Hardcover (4/5/2016)
Compact Disc (4/5/2016)
Compact Disc (4/5/2016)
MP3 CD (4/5/2016)
* Individual store prices may vary.
Description
Rob Spillman, the award-winning, charismatic cofounding editor of Tin House, has devoted his life to the rebellious pursuit of artistic authenticity. In All Tomorrow's Parties, he takes us on a journey through the formative years of his youth in search of purpose--through Cold War to post-Wall Berlin and the gritty days of New York City's East Village in the eighties. Born in Germany to two driven musicians, his childhood was spent backstage among the West Berlin cognoscenti, in a city two hundred miles behind the Iron Curtain. There, the Berlin Wall stood as a stark reminder of the split between East and West, between suppressed dreams and freedom of expression. It was against this distinctive backdrop that he became inspired to live for art. After an unsettled youth moving between divorced parents in disparate cities, Spillman would eventually find his way into the literary world of New York City, only to abandon it to return to Berlin just months after the Wall came down. Twenty-five and newly married, Spillman and his wife moved to the bullet-pocked, anarchic streets of East Berlin in search of the bohemian lifestyle of their idols. But Spillman's constant striving--for inspiration and for identity--ultimately led him to discover that he was chasing the one thing that had always eluded him: a place, or person, to call home. All Tomorrow's Parties is an intimate, exhilarating, and heartfelt memoir; a colorful, music-filled coming-of-age portrait of an artist's life and an offbeat exploration of a shifting Berlin on the cusp of cultural renaissance.
About the Author
Rob Spillman is editor of Tin House magazine and editorial advisor of Tin House Books, and he was recently awarded the PEN Nora Magid Award for Editing. His writing has appeared in Bookforum, GQ, Guernica, New York Times Book Review, Rolling Stone, Sports Illustrated, Vanity Fair, and Vogue, among others. He is currently a lecturer in Columbia University's MFA graduate writing program.