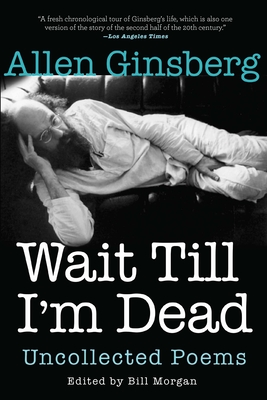 Wait Till I'm Dead
Uncollected Poems
Paperback

* Individual store prices may vary.
Other Editions of This Title:
Hardcover (2/2/2016)
Description
Allen Ginsberg's poems, from "Howl" to "Kaddish" to "The Fall of America," have influenced generations of writers and made him a defining figure of the twentieth century. Ginsberg's Collected Poems, first published in 1984, and expanded in 1997, was originally thought to contain all of his poetic work. But now, for the first time, Ginsberg's stray poems have been gathered and the result, Wait Till I'm Dead is a landmark publication spanning five decades of Ginsberg's writing life. The first new Ginsberg collection in over fifteen years, Wait Till I'm Dead is edited by renowned scholar Bill Morgan, with a foreword written by award-winning poet Rachel Zucker. Many of the poems collected in this volume were scribbled in letters or sent off to obscure publications and unjustly forgotten. Tracing the chronology of his life, Wait Till I'm Dead follows Ginsberg from his high school days and earliest political satire to his activism, spiritual maturation, and on-the-road experiences worldwide. The collection concludes with his personal thoughts on mortality as he watched his friends, and himself, grow old. Throughout the collection Ginsberg pays homage to his contemporaries and poetic icons, including Frank O'Hara, John Ashbery, Robert Creeley, Lawrence Ferlinghetti, William Carlos Williams, and Ezra Pound. The selection also features several of Ginsberg's collaborative poems, works coauthored by Gregory Corso, Jack Kerouac, Ted Berrigan, Ron Padgett, Gary Snyder, and Kenneth Koch, providing an inside view of famed Beat poets and their relationships. Containing 104 previously uncollected poems and accompanied by original photographs and extensive notes, Wait Till I'm Dead is the final major contribution to Ginsberg's sprawling oeuvre, a must-read for Ginsberg neophytes and longtime fans alike.
Grove Press, 9780802126320, 272pp.
Publication Date: February 14, 2017
About the Author
Allen Ginsberg (1926-1997) was a poet, activist, and one of the Beat Generation's most renowned writers. He was a member of the American Academy of Arts and Letters and cofounder of the Jack Kerouac School of Disembodied Poetics at Naropa Institute. He won the National Book Award for Poetry and his groundbreaking poem Howl is one of the most widely read and translated poems of the century. Bill Morgan has written and edited thirty-nine books, including I Celebrate Myself: The Somewhat Private Life of Allen Ginsberg. Rachel Zucker is the author of nine books, including a memoir, MOTHERs, and a double collection of prose and poetry, The Pedestrians. She has been named a finalist for the National Book Critics Circle Award and received a National Endowment for the Arts Fellowship in 2013. She teaches poetry at New York University.