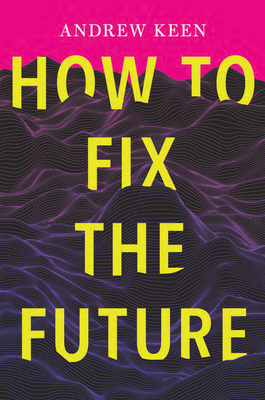 How to Fix the Future (Hardcover)
Atlantic Monthly Press, 9780802126641, 288pp.
Publication Date: February 6, 2018
Description
Andrew Keen was among the earliest to write about the dangers of the Internet to our culture and society. His most recent book, The Internet Is Not the Answer was praised by Kazuo Ishiguro in the New Statesman, who called it "compelling, persuasive . . . scary." Keen's new book, How to Fix the Future, based on research, analysis, and Keen's own reporting, showcases global solutions for our digital predicament, and provides a historical context, showing how we have dealt with radical technological change in the past, especially after the Industrial Revolution. Keen identifies five broad strategies to tackle the digital future: competitive innovation, regulation, consumer choice, civic responsibility, and education. Traveling the world in order to identify best (and worst) practices in these five areas, Keen moves from Estonia, where Skype was founded, a place where the government's "e-residency" program is proving very successful, and where transparency of public data and security of private information are exemplary, to Brussels, where Margrethe Vestager and other EU regulators are putting pressure on American companies to pay their fair share of taxes and abide by labor laws, to Scandinavia, Singapore, India, and, of course, Silicon Valley. Powerfully argued and deeply engaging, How to Fix the Future provides hope that the economic inequality, unemployment, erosion of privacy, and individual alienation that the digital upheaval is causing may still be solvable, and that the future may yet become something that we can look forward to.
About the Author
Andrew Keen is the executive director of the Silicon Valley salon FutureCast, a columnist for GQ magazine, and a regular commentator on all things digital. He is the author of The Internet Is Not the Answer, Digital Vertigo, and the international sensation The Cult of the Amateur.
Advertisement