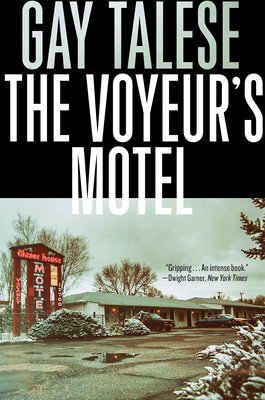 The Voyeur's Motel
Paperback

* Individual store prices may vary.
Other Editions of This Title:
Hardcover (7/12/2016)
MP3 CD (9/27/2016)
Description
On January 7, 1980, in the run-up to the publication of his landmark bestseller Thy Neighbor's Wife, Gay Talese received an anonymous handwritten letter from a man in Colorado. "Since learning of your long-awaited study of coast-to-coast sex in America," the letter began, "I feel I have important information that I could contribute to its contents or to contents of a future book." The man went on to tell Talese an astonishing secret: he had bought a motel outside Denver to satisfy his voyeuristic desires. Underneath the roof of his motel, the man had built an "observation platform," fitted with vents, through which he could watch his unwitting guests. Unsure what to make of this confession, Talese traveled to Colorado where he met the man--Gerald Foos--and verified his story in person. But because Foos insisted on remaining anonymous, preserving for himself the privacy he denied his guests, Talese filed his reporting away, assuming the story would remain untold. Over the ensuing years, Foos occasionally reached out to Talese to fill him in on the latest developments in his life. He also sent Talese hundreds of pages of notes on his guests and their habits, work that Foos believed made him a pioneering researcher into American society and sexuality. America in microcosm had passed through the Voyeur's motel, and he witnessed and recorded the harsh effects of the war in Vietnam, the upheaval in gender roles, the decline of segregation, and much more. But Foos continued to insist on anonymity. Now, after thirty-five years, he's ready to go public and Gay Talese can finally tell his story. The Voyeur's Motel is an extraordinary work of narrative journalism, at once a portrait of one complicated man, and an examination of secret lives and shifting mores in a culturally-evolving country.
Grove Press, 9780802126979, 240pp.
Publication Date: July 11, 2017
About the Author
Gay Talese was born in Ocean City, New Jersey, in 1932, to Italian immigrant parents. He attended the University of Alabama, and after graduating was hired as a copyboy at the New York Times. After a brief stint in the army, Talese returned to the New York Times in 1956. Since then he has written for numerous publications, including Esquire, the New Yorker, Newsweek, and Harper's Magazine. It was these articles that led Tom Wolfe to credit Gay Talese with the creation of an inventive form of nonfiction writing called "The New Journalism." Talese's bestselling books have dealt with the history and influence of the New York Times (The Kingdom and the Power); the inside story of a Mafia family (Honor Thy Father); his father's immigration to America from Italy in the years preceding World War II (Unto the Sons); and the changing moral values of America in the period between World War II and the AIDS epidemic (Thy Neighbor's Wife). Gay Talese lives with his wife, Nan, in New York City.