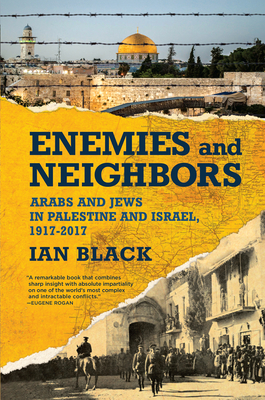 Enemies and Neighbors (Hardcover)
Arabs and Jews in Palestine and Israel, 1917-2017
Atlantic Monthly Press, 9780802127037, 512pp.
Publication Date: November 7, 2017
Other Editions of This Title:
Paperback (10/16/2018)
MP3 CD (5/22/2018)
Compact Disc (5/22/2018)
* Individual store prices may vary.
Description
From a long-time Guardian correspondent and editor, an expansive, authoritative, and balanced account of over a century of violent confrontation, war, and occupation in Palestine and Israel, published on the 100th anniversary of the Balfour Declaration and 50th anniversary of the Six-Day War
In Enemies and Neighbors, Ian Black, who has spent over three decades covering events in the Middle East and is currently a fellow at the London School of Economics, offers a major new history of the Arab-Zionist conflict from 1917 to today, published on the centenary of the Balfour Declaration.
Laying the historical groundwork in the final decades of the Ottoman Era, when the first Zionist settlers arrived in the Holy Land, Black draws on a wide range of sources--from declassified documents to oral histories to his own vivid on-the-ground reporting--to recreate the major milestones in the most polarizing conflict of the modern age from both sides. In the third year of World War I, the seed was planted for an inevitable clash: Jerusalem Governor Izzat Pasha surrendered to British troops and Foreign Secretary Lord Balfour issued a fateful document sympathizing with the establishment of "a national home for the Jewish people." The chronicle takes us through the Arab rebellion of the 1930s; the long shadow of the Nazi Holocaust; the war of 1948--culminating in Israel's independence and the Palestinian Nakba (catastrophe); the "cursed victory" of the Six-Day War of 1967 and the Palestinian re-awakening; the first and second Intifadas; the Oslo Accords; and other failed peace negotiations and continued violence up to 2017.
Combining engaging narrative with historical and political analysis and cultural insights, Enemies and Neighbors is both an accessible overview and a fascinating investigation into the deeper truths of a history that continues to dominate Middle Eastern politics and diplomacy--one which has preserved Palestinians and Israelis as unequal enemies and neighbors, their conflict unresolved as prospects for a two-state solution have all but disappeared.
About the Author
Ian Black joined the Middle East Centre at the London School of Economics as Visiting Senior Fellow in August 2016. He has been the Middle East editor, diplomatic editor, and European editor for the Guardian. He has also written for the Economist and the Washington Post, among other publications, and is a regular commentator on TV and radio on Middle Eastern and international affairs. He coauthored Israel's Secret Wars; wrote the introduction to The Arab Spring: Revolution, Rebellion and a New World Order; and contributed to the Encyclopedia of the Modern Middle East and North Africa. He has an MA in history and political science from the University of Cambridge and a PhD in government from LSE. He lives in London.