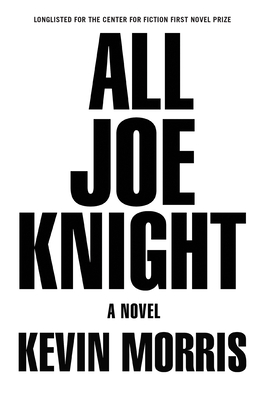 All Joe Knight (Paperback)
Grove Press, 9780802127174, 368pp.
Publication Date: December 5, 2017
* Individual store prices may vary.
Description
In the audacious and lyrical debut novel All Joe Knight, longlisted for the Center for Fiction First Novel Prize, critically acclaimed writer Kevin Morris cements his place as a bold new voice in American literature.
1961. Orphaned before his first birthday, Joe Knight begins life as a blank slate. Taken in by an aunt in a blue-collar Philadelphia suburb, Joe finds a sense of belonging with a scrappy group of kids who come together on the basketball court and evolve into the Fallcrest High School team--the kind of team that comes around once in a generation. All these kids want is to make it to the Palestra, Philadelphia's cathedral of college basketball. Fast-forward thirty years: Joe is newly divorced with a young daughter. Ever since selling the ad firm he built from the ground up for millions, he's been wiling away his time at a local business school and at strip clubs. Then he hears from Chris Scully, a former Fallcrest teammate who is now district attorney. The Justice Department is sniffing around the deal that made Joe rich--a deal he cut every member of the basketball team into, except for Scully. As the details about Joe's possible transgressions are unreeled, he is forced to face the emptiness inside himself and a secret that has tormented him for decades.
About the Author
Kevin Morris is the author of the acclaimed story collection White Man's Problems and has written for the Wall Street Journal, Los Angeles Times, and Filmmaker magazine. He produced the highly regarded documentary Hands on a Hardbody and was a coproducer and Tony Award winner for The Book of Mormon.