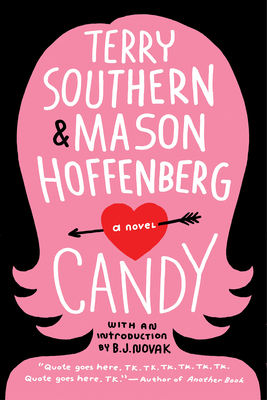 Candy
Paperback

* Individual store prices may vary.
Description
Originally banned in Paris and published by the Olympia Press under the pseudonym Maxwell Kenton, Candy is the scandalous 1958 novel cowritten by Terry Southern and Mason Hoffenberg, now reissued with an introduction by B. J. Novak. Candy was greeted in America by white-hot controversy, becoming a bestseller and helping to cement Southern's reputation as a legendary absurdist comic. The book centers on the sexual misadventures of a young girl named Candy Christian--lithe, taut, impossibly sweet, and as naive as she is irresistible. Chronicling her liaisons with everyone from her father's gardener, a pretentious professor, a shrink, a guru, and even her own uncle, Candy follows this luscious all-American girl as she breaks away from her small-town life and sets out to experience the world. Through it all, Candy is exploited, ravaged, and used--and eager as ever to please. A satire of Voltaire's Candide, Candy is an exhilarating romp through the fantasies and perversions of the American male and a fearless portrait of corrupted innocence in a society obsessed with narcissism, power, and commerciality. A hilarious and sexy fable, Candy is a countercultural tour de force.
Grove Press, 9780802127471, 288pp.
Publication Date: July 17, 2018
About the Author
Terry Southern (1924-1995) is the bestselling author of Candy, The Magic Christian, Flash and Filigree, Blue Movie, and Red-Dirt Marijuana and Other Tastes. An Academy Award-nominated screenwriter, his film credits include Dr. Strangelove, Easy Rider, and Barbarella, as well as an adaptation of The Magic Christian. Mason Hoffenberg (1922-1986) was an American poet and a writer for the Olympia Press in Paris whose works include A Sin for Breakfast and Until She Screams.