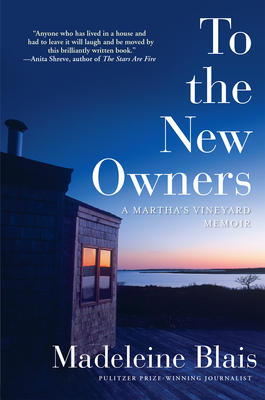 To the New Owners
A Martha's Vineyard Memoir
Paperback

* Individual store prices may vary.
Other Editions of This Title:
Digital Audiobook (10/2/2017)
Hardcover (7/4/2017)
MP3 CD (10/3/2017)
Compact Disc (10/3/2017)
Description
In the 1970s, Madeleine Blais' in-laws purchased a vacation house on Martha's Vineyard for the exorbitant sum of $80,000. 2.2 miles down a poorly marked, one lane dirt road, the house was better termed a shack-it had no electricity, no modern plumbing, the roof leaked, and mice had invaded the walls. It was perfect. Sitting on Tisbury Great Pond-well-stocked with oysters and crab for foraged dinners-the house faced the ocean and the sky, and though it was eventually replaced by a sturdier structure, the ethos remained the same: no heat, no TV, and no telephone. Instead, there were countless hours at the beach, meals cooked and savored with friends, nights talking under the stars, until at last, the house was sold in 2014. To the New Owners is Madeleine Blais' charming, evocative memoir of this house, and of the Vineyard itself-from the history of the island and its famous visitors to the ferry, the pie shops, the quirky charms and customs, and the abundant natural beauty. But more than that, this is an elegy for a special place. Many of us have one place that anchors our most powerful memories. For Blais, it was the Vineyard house-a retreat and a dependable pleasure that also measured changes in her family. As children were born and grew up, as loved ones aged and passed away, the house was a constant. And now, the house lives on in the hearts of those who cherished it.
Grove Press, 9780802127877, 288pp.
Publication Date: June 19, 2018
About the Author
Madeleine Blais is a Pulitzer Prize-winning journalist and author. Her book In These Girls, Hope Is a Muscle, was a national bestseller and a finalist for the National Book Critics Circle Award for Nonfiction. She is also the author of Uphill Walkers and The Heart Is an Instrument. She lives in Amherst, Massachusetts.