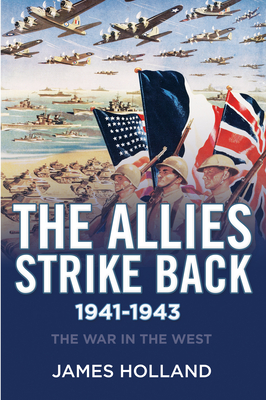 The Allies Strike Back, 1941-1943 (War in the West) (Paperback)
Grove Press, 9780802128577, 752pp.
Publication Date: October 16, 2018
Other Editions of This Title:
Hardcover (10/3/2017)
MP3 CD (7/24/2018)
* Individual store prices may vary.
Description
Following
The Rise of Germany
, the acclaimed first volume in his War in the West trilogy, James Holland has crafted a masterful and gripping narrative of the events that ultimately determined the outcome of World War II. By June 1941, Germany's war machine looked unstoppable. The Nazi blitzkrieg had taken Poland, France, and the Netherlands with shocking speed. The Luftwaffe had bombed London, while German U-boats wrought havoc on Allied shipping on the Atlantic. And yet, as Holland shows in
The Allies Strike Back
, cracks were already appearing in Germany's apparent invincibility. When the Americans entered the war in the west, Hitler was bogged down with a savage war of attrition as he attempted to invade the Soviet Union. The Allies soon stormed to victory in North Africa and escalated the bombing of Germany, fatefully turning the tides of the war and threatening the morale of the Third Reich.
With a wealth of characters from across the western theater of World War II, Holland tells a captivating story while calling on new research that challenges our assumptions and reframes our understanding of this momentous conflict.
About the Author
James Holland is a historian, writer, and broadcaster. The author of The Rise of Germany, 1939-1941, the first book in The War in the West series, as well as the bestselling Fortress Malta, Battle of Britain, and Dam Busters, he has also written numerous works of historical fiction. Holland regularly appears on television and radio and has written and presented the BAFTA-shortlisted documentaries Battle of Britain and Dam Busters for the BBC, among others. His writing has appeared in magazines and newspapers including the Sunday Telegraph, for whom he went to Helmand Province in Afghanistan, the Times, Daily Mail, and BBC History Magazine. A fellow of the Royal Historical Society, and cofounder and program director of the hugely successful Chalke Valley History Festival, Holland has also advised the British government on history curriculum and has his own collection at the Imperial War Museum.