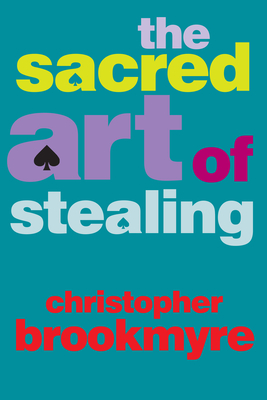 The Sacred Art of Stealing (Paperback)
Grove Press, 9780802128911
Publication Date: November 20, 2018
Other Editions of This Title:
Compact Disc (7/1/2004)
Analog Audio Cassette (7/1/2004)
* Individual store prices may vary.
Description
A robbery in Scotland might not seem like an unusual background for a crime novel--until it's put into the hands of one of the U.K.'s leading satirists, Christopher Brookmyre. Now available for the first time in the U.S.,
The Sacred Art of Stealing
is narrative catnip for fans of crime fiction laced with dark humor.
This is how the story goes: Their eyes met across a crowded room. She was just a poor servant girl and he was the son of a rich industrialist . . . Well, the eyes meeting across a crowded room part is true. Where it differs from the fairy tales is that the room in question was crowded with hostages and armed bank-robbers, and Zal Innez's eyes were the only part of him that Angelique de Xavia could see behind his mask. Angelique had enough to be fed up about before the embarrassment of being a cop taken hostage by the most bizarrely unorthodox crooks ever to set foot in Glasgow. Disillusioned, disaffected and chronically single, she's starting to take stock of the sacrifices she's made for a job that's given her back nothing but grief. So when her erstwhile captor has the chutzpah to phone her at work and ask her out on a date, Angelique finds herself in no great hurry to turn him in. She knows now that the cops will never love her back, but maybe one of the robbers will.
About the Author
Christopher Brookmyre was a journalist before publishing his award-winning debut, Quite Ugly One Morning. He is the author of the Jack Parlabane thriller series, which has sold over 1 million copies in the UK alone, and the acclaimed Jasmine Sharp and Catherine McLeod novels. He has won many wards for his work, including the Theakston Old Peculier Crime Novel of the Year Award, the McIlvanney Prize for Best Scottish Crime Novel of the Year, the Bollinger Everyman Wodehouse Prize, and the Glenfiddich Spirit of Scotland Award.