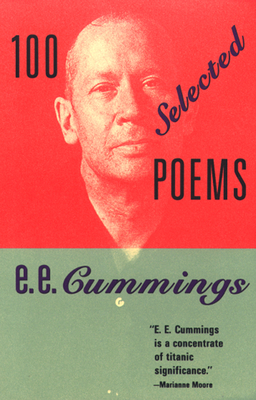 100 Selected Poems
Paperback

* Individual store prices may vary.
Description
E.E. Cummings is without question one of the major poets of this century, and this volume, first published in 1959, is indispensable for every lover of modern lyrical verse. It contains one hundred of Cummings's wittiest and most profound poems, harvested from thirty-five of the most radically creative years in contemporary American poetry. These poems exhibit all the extraordinary lyricism, playfulness, technical ingenuity, and compassion for which Cummings is famous. They demonstrate beautifully his extrapolations from traditional poetic structures and his departures from them, as well as the unique synthesis of lavish imagery and acute artistic precision that has won him the adulation and respect of critics and poetry lovers everywhere.
Praise For 100 Selected Poems…
E.E. Cummings is a concentrate of titanic significance."Marianne Moore

To my way of thinking Cummings is, within his field of personal emotion, the lyrical field, one of the inventors of our time. He puts his inventions down with an unexpected refurbishing of phrase and a filigree delicacy of hairbreadth exact statement that is a continual challenge."John Dos Passos

No one else has ever made avant-garde, experimental poems so attractive both to the general and the special reader; since the early twenties, Cummings has been more widely imitated and easily appreciated than any other modernist poet."Randall Jarrell

He has more control over language than any poet since Joyce. . . . Everybody delights in reading him."Karl Shapiro

E.E. Cummings is a concentrate of titanic significance, a positive character'; and only ingenuousness could attempt to suggest in a word the heroic' aspect of his painting, his poems, and his resistances. He does not make aesthetic mistakes."Marianne Moore
Grove Press, 9780802130723, 121pp.
Publication Date: January 10, 1994