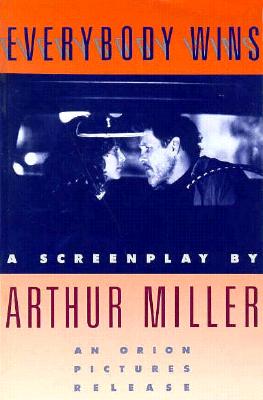 Everybody Wins (Miller)
Paperback

* Individual store prices may vary.
Description
In his first original screenplay since The Misfits (1961), Arthur Miller has spun a taut, sophisticated drama of seduction and corruption in a small Connecticut city long past its industrial prime. Tom O'Toole (Nick Nolte), a crusading private detective, is summoned to town by the enigmatic Angela Crispini (Debra Winger), a woman of less that spotless reputation. Angela begs Tom to investigate the case of Felix Daniels, a local boy convicted of brutally murdering his uncle. She insists that Felix is innocent, and despite his reservations Tom is relentlessly drawn in, as much by the rising sexual tension between them as by the tantalizing hints she keeps dropping about the case.
As Tom pursues various leads, he finds that the whole town knows Felix is innocent, and that the identity of the murderer - the leader of a bizarre local cult - is no big secret either. The mystery, then, is why everyone seems perfectly happy to let Felix rot in jail, and why Angela, who holds the key, won't tell Tom the whole truth.
Everybody Wins, with a provocative preface on the role of language in screenwriting, is a richly atmospheric, masterfully plotted suspense story, but of course, in the hands of Arthur Miller, it is much more. As always in the work of this great American playwright, it is a complex exploration of morality, public and private, where the real mystery lies in the elusive core of the human personality.
Grove Press, 9780802132000, 109pp.
Publication Date: January 21, 1994
or
Not Currently Available for Direct Purchase