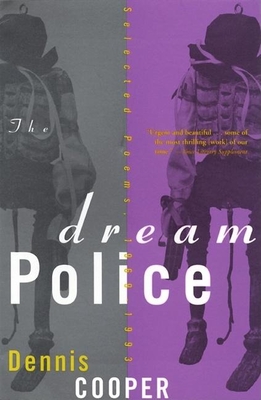 The Dream Police
Selected Poems, 1969-1993
Paperback

* Individual store prices may vary.
Description
With each new novel, Dennis Cooper's reputation as the most daring and distinctive writer working in America today is cemented. To anyone familiar with this writer -- whom the New York Times calls taut, chillingly ironic, the Washington Post Book World terms brilliant, and the Village Voice deems capable of religious intensity -- it will come as no surprise that before he achieved success as a novelist, Dennis Cooper was best known as a poet. The Dream Police collects the best poems from five of his previous books and also includes a selection of new works. From his darkly erotic early verse to the more refined, post-punk poems that led critics to dub him the spokesman for the Blank Generation, to his later experimental pieces, Cooper's evolving study of the distances and dangers in romantic relationships has made him a singular voice in American poetry. The Dream Police is a vital addition to Dennis Cooper's riveting and disarming vision of life, love, obsession, and the depths of human need. There can be no doubt about the power and originality of Cooper's writing. -- The Washington Post Book World; Cooper's vision is at first intense, nearly minimal, then suddenly it ascends into vision. -- Kathy Acker; In another country or another era, Dennis Cooper's books would be circulated in secret, explosive samizdat editions that friends and fans would pass around and savor like forbidden absinthe. He would risk his life for them, or maybe he'd just be sent to a mental asylum, like the Marquis de Sade, to whom he has been compared. This is high risk literature. It takes enormous courage for a writer to explore, as Mr. Cooper does, the extreme boundaries of human behavior and amorality, right to the abyss where desire and lust topple to death. -- Catherine Texier, The New York Times Book Review.
Grove Press, 9780802134578, 144pp.
Publication Date: May 10, 1996