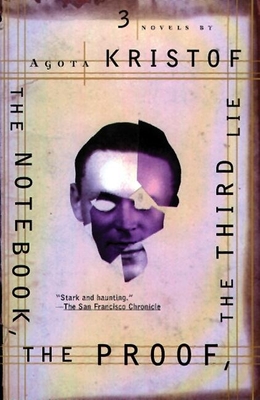 The Notebook, the Proof, the Third Lie
Three Novels
Paperback

* Individual store prices may vary.
Description
These three internationally acclaimed novels have confirmed Agota Kristof's reputation as one of the most provocative exponents of new-wave European fiction. With all the stark simplicity of a fractured fairy tale, the trilogy tells the story of twin brothers, Claus and Lucas, locked in an agonizing bond that becomes a gripping allegory of the forces that have divided brothers in much of Europe since World War II. Kristof's postmodern saga begins with The Notebook, in which the brothers are children, lost in a country torn apart by conflict, who must learn every trick of evil and cruelty merely to survive. In The Proof, Lucas is challenging to prove his own identity and the existence of his missing brother, a defector to the other side. The Third Lie, which closes the trilogy, is a biting parable of Eastern and Western Europe today and a deep exploration into the nature of identity, storytelling, and the truths and untruths that lie at the heart of them all. Stark and haunting. - The San Francisco Chronicle; A vision of considerable depth and complexity, a powerful portrait of the nobility and perversity of the human heart. - The Christian Science Monitor.
Grove Press, 9780802135063, 480pp.
Publication Date: June 23, 1997