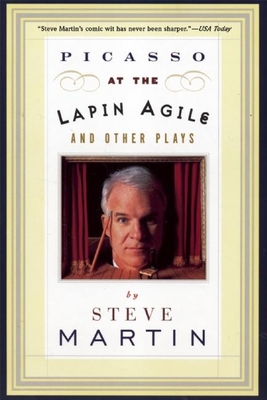 Picasso at the Lapin Agile and Other Plays (Paperback)
Picasso at the Lapin Agile, the Zig-Zag Woman, Patter for a Floating Lady, Wasp
Grove Press, 9780802135230, 160pp.
Publication Date: August 7, 1997
* Individual store prices may vary.
Description
Steve Martin is one of America's most treasured actors, having appeared in some of the most popular moves of our time. He is also an accomplished screenwriter who has in the past few years turned his hand to writing plays. The results, collected here, hilariously explore serious questions of love, happiness and the meaning of life; they are rich with equal parts of pain and slapstick humour, torment and wit.
Praise For Picasso at the Lapin Agile and Other Plays: Picasso at the Lapin Agile, the Zig-Zag Woman, Patter for a Floating Lady, Wasp…
Steve Martin's comic wit has never been sharper."USA Today

Steve Martin is the most exciting new playwright in town. . . . His first play is a major treat."Newsday

[Picasso at the Lapin Agile is] a very engaging 75-minute shaggy dog of a comedy . . . Mr. Martin has also created a number of moment of real humor and wit. . . . His manner is to so mix the sublime with the ridiculous that they can't be easily disentangled."Vincent Canby, The New York Times

Steve Martin is a gifted screenplay writer, and as Picasso demonstrated, a smart, facile thinker with a serious reach."Variety

Picasso at the Lapin Agile is Martin's poker-facedand very funnyriff on the birth of the modern century."New York

More laughs, more fun and more delight than anything currently on the New York stage."The New York Observer